Black woman in Texas begins prison sentence for voting
By Stacy M. Brown,NNPA Newswire Correspondent | 10/3/2018, 10:37 a.m.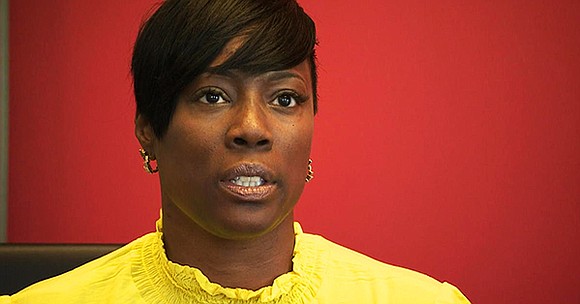 With the midterm elections just weeks away, activists and others are keeping keen eyes on any semblance of voter suppression – or worse. For Crystal Mason of Rendon, Texas, "worse" took the form of the 2016 presidential election. Having previously spent time in federal prison on a tax fraud conviction, Mason was ineligible to vote in Texas. She claimed she didn't know that.
Mason hadn't originally planned to vote, according to supporters who have started a change.org petition that already gained more than 100,000 signatures.
After her mother reminded her of how important voting is, Mason decided to vote as a means of setting a good example for her children. For that, she's now serving a minimum of five years in prison.
Warren St. John, her defense attorney, said after the verdict that an appeal had already been filed and that he is hopeful his client will soon be released on bond, according to the Fort Worth Star Telegram.
"I find it amazing that the government feels she made this up," St. John told the court. "She was never told that she couldn't vote, and she voted in good faith. Why would she risk going back to prison for something that is not going to change her life?"
According to a report released in 2016 compiled by the Sentencing Project, a criminal justice reform advocacy group, more than 6 million felons in the United States and nearly 500,000 in Texas were ineligible to vote in 2016.
During her testimony, Mason — who previously served just shy of three years in federal prison — told the court that she was assigned a provisional ballot after she arrived at her usual polling place and discovered that her name was not on the voter roll.
Gonzalez, who questioned Mason during her testimony, asked why she did not thoroughly read the documents she was given at the time. The form you are required to sign to get the provisional ballot is called an affidavit, Gonzales told Mason. "There's a legal connotation to that, right?" Gonzales asked, according to the Star Telegram.
Mason responded that she was never told by the federal court, her supervision officer, the election workers or U.S. District Judge John McBryde, the sentencing judge in her fraud case, that she would not be able to vote in elections until she finished serving her sentence, supervised release included. She also said she did not carefully read the form because an election official was helping her.
During cross-examination by Tarrant County prosecutor Matt Smid, Mason was reminded that she had jeopardized her freedom in the past by violating federal tax laws. However, sacrificing her freedom to vote was not something she would knowingly do, Mason explained to District Judge Ruben Gonzales, who would ultimately determine sentencing. "I inflated returns. I was trying to get more money back for my clients. I admitted that. I owned up to that. I took accountability for that. I would never do that again. "I was happy enough to come home and see my daughter graduate. My son is about to graduate. Why would I jeopardize that? Not to vote. …I didn't even want to go vote."