Along with Mahalia and Aretha, there was Clara Ward and her singers
Herb Boyd | 10/4/2018, 11:38 a.m.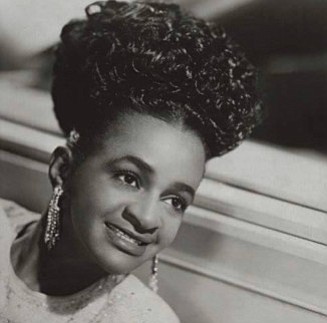 Aretha Franklin's passing created a flurry of tributes and memorials, which continues weeks after her death Aug. 16. The October edition of Rolling Stone weighed in with a lengthy reflection by Mikal Gilmore, with as much effulgence as all the other tributes combined.
In surveying Franklin's extraordinary odyssey, he touched briefly on the gospel singer Clara Ward, and he noted the influence she had on her protégé as well as Ward's "on again, off again," relationship with the Rev. C.L. Franklin, Aretha's charismatic father.
Few encomiums about Franklin missed mentioning Ward, but none of them offered more than a passing nod to her career and legacy. Let this page be added to what has been only fragments of her momentous life.
Clara Mae Ward was born in Philadelphia April 21, 1924, and was nurtured in a home where the church and gospel music were as regular as Sunday morning grits, eggs and bacon. Although she recorded her first song when she was 16, it was not until her mother, Gertrude, in 1931, formed the Ward Singers, including her sister Willa on piano, that she gained national prominence. When they performed at the National Baptist Convention in 1943, the Ward Singers secured a niche at the tip of the gospel and church circuit.
By the late '40s, given the group's popularity, two new members—Henrietta Waddy and Marion Williams—were added. Williams' powerful voice became the group's signature sound, replacing Ward as the leader, although Ward continued as pianist and arranger. When the singers issued "Surely God Is Able" and "Packin' Up," their acclaim reached a new pinnacle. However, there were those purists among their followers who took exception to the semblance of actually mimicking packing during their rendition of the latter song.
Even with Williams out front, her soaring soprano capable of reaching the top of the scale, Ward's presence was always in demand, particularly for her to render "How I Got Over," in her practically heavenly alto voice. But soon she settled into being just another voice in the quartet, as well as the arranger, and making sure that when new singers such as Frances Steadman and Kitty Parham were added, they were familiar with the switch-lead style of the shouting quartets. Through the '50s the Ward Singers dominated the gospel charts and the church circuit, their beehive bouffant wigs almost as identifying as their harmonic voices.
The group's climb in sales and engagements were accentuated by their appearances with the Rev. Franklin, but this ascendance hit a bump when a disgruntled Williams, not satisfied with her pay, left the group. Her exit was followed by Steadman and Parham, who also complained about their low salaries. In Willa Ward's biography of Clara Ward, she wrote that she and other members of the group were grossly underpaid. Moreover, the singers were charged for housing, thereby having charges for rent deducted from their salaries.
Williams and the other disbanded members formed a new group called The Stars of Faith, which might have been a name to counter the Ward Singers' venturing out of the conventional gospel genre and style.