First lady of Nigeria is honoree at Global Empowerment Movement
Faith Osunde | 10/4/2018, 10:18 a.m.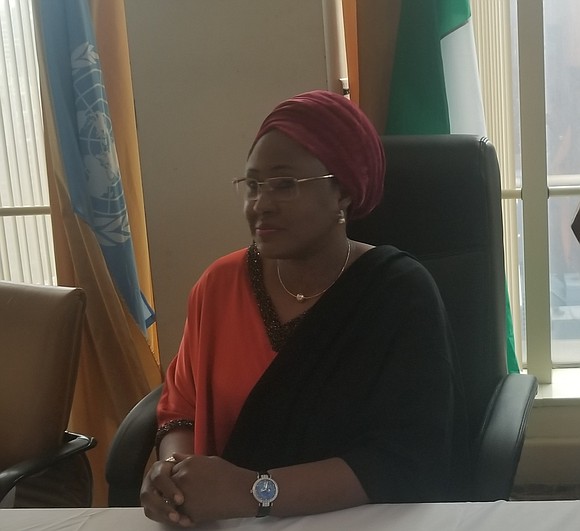 Sept. 27, the first lady of Nigeria, Aisha Muhammadu Buhari, was honored with the Distinguished Global Award for Excellence in Women Empowerment and Gender Development during the Global Empowerment Movement session of the United Nations in New York City.
The topic of the day at the Nigerian Consulate in New York City was "Human Trafficking in Africa." Along with Buhari were the first ladies of Burkina Faso (Sika Kaboré), Gambia (Fatoumatta Bah-Barrow) and Niger (Mrs. Lalla Malika Issoufou). All of the first ladies praised Buhari on her efforts to help women through her program that encourages education.
"Women have been at the receiving end of constant instances of abuse and victimization all over the globe," said Buhari. "And I make it my responsibility to do the best I can to give to them and to discourage other cases from happening in Nigeria."
GEM-USA is an international non-governmental organization that gives support to underprivileged women and families who are vulnerable to victimization/crimes of abuse, human trafficking, forced prostitution and provides education to bring these heinous crimes to the attention of others. The women and children who are convinced to move abroad for what they believe is a better future are unaware of human trafficking and end up being forced into prostitution, forced marriages or modern day slavery, or having their organs harvested.
The GEM provides education on human trafficking and prevents it through advocacy and empowerment programs. "Our most significant activities include human trafficking education and advocacy programs," says the GEM mission statement. "GEM organizes public education against women and sex trafficking, human trafficking, targeted at resource poor communities."
The sex trade around the world makes more than $32 billion annually, with 59 percent of the victims of human trafficking coming from Nigeria, according to the International Organization for Migration. The young women and children who fall victim to human trafficking come from poverty and are sold a dream to travel abroad to obtain a job and make money to provide for themselves and their loved ones.
The Global Empowerment ambassador, Dr. Queen Blessing Itua, fights against violence in all forms that plague women and children in Africa. She produced a film to create awareness about human trafficking titled "Mrs. Adams" and she wrote a book titled "We Are the Blessings of Africa."