Is the Gillum versus DeSantis contest really a race war?
ROGER CALDWELL | 10/4/2018, 4:01 p.m. | Updated on 10/4/2018, 4:01 p.m.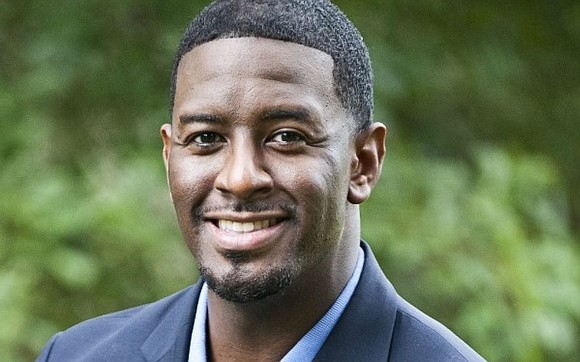 By ROGER CALDWELL
The Gillum campaign is really a political mistake, if you ask any political expert. Gillum did not win because he ran a great primary race, but four Democratic candidates split the white vote. Once there are too many candidates in a race, the Democrat leadership cannot help decide the outcome.
Anyone who studies politics is aware that the Democrats and the Republicans decide very early which candidates will win the position they are running for. Gillum is a wonderful mistake, but it is a political Democratic mistake in 2018, and the party must support its candidate 150 percent.
Florida has a history of the KKK determining in many small rural towns who would win the election, and it did not matter if they were Democrat or Republican. Many have forgotten the Ocoee massacre, Nov. 2, 1920, when a white mob attacked African-American residents in northern Ocoee, when the Blacks attempted to vote.
Wikipedia states, "As many as 50 or 60 African-Americans may have been killed during the massacre, and most African-Americans owned buildings and residences in northern Ocoee were burned to the ground. Other African Americans living in southern Ocoee were later driven out on threat of more violence. This massacre started as a result of white attempts to suppress Black voting."
No one in the State of Florida was charged with murder, and there was no investigation by the police. In 1951 in Cocoa, Florida, Harry T. Moore and his wife were killed by a bomb planted by the KKK for registering Blacks to vote. Again, no one in Florida was charged with murder, and no one knows exactly when the police started to protect Blacks when they voted.
But, one thing for sure, voting in certain Florida towns was dangerous, and even in the 1960s and 1970s you could lose your life voting. So a racist dog whistle from the GOP candidate in 2018 should not come as a surprise.
U.S. Congressman Ron DeSantis has started the race for Florida governor by calling Mayor Andrew Gillum a monkey. That is a code word for the base, and it is telling everyone who is white, they must vote Republican in this election.
According to the Quinnipiac University Poll, Gillum is winning by 9 percent points, but the NBC Poll has Gillum ahead by 4 percent points. Ninety percent of Republicans are voting for DeSantis in the polls, and in midterm elections, more whites usually vote.
In the 2016 election, Clinton was leading in the opinion polls during the campaign, but she lost on Election Day because Republicans showed up at the voting booth and voted. Florida is a swing state, where the most important races are decided by the slimmest of margins.
In the past week, DeSantis has charged the Gillum camp with anti-Semitism and supporting the Dream Defenders and the Council on American Islamic Relations, which are critical of Israel. There are 630,000 Jews in Florida, and they will become a key demographic in the governor's race.
DeSantis was strategic in selecting the first Cuban-American woman, Miami Rep. Jeanette Nunez, as his lieutenant governor, and the Hispanic and women's vote will be split. Gillum is leading among Black voters by 98 percent to 2 percent and among Hispanic voters by 59 percent to 40 percent. DeSantis is winning with the white vote in the state by 53 percent and 43 percent.
Gillum's strategy is to win with a strong ground game and more than 50 offices around the state. DeSantis will continue to fight with a smear campaign, and Trump will give more resources and support to the state of Florida. The Republicans are not beyond cheating, and the campaign will get uglier and meaner
The youth, the African-Americans, the Haitians and other Caribbean immigrants, the progressive whites, women and seniors must organize and unite, because the fight is in the trenches. If the Blacks don't remember their history and people of color stay home, Gillum cannot win.