It's in the bag for fall '18
Renee Minus White | 10/4/2018, 4:04 p.m. | Updated on 10/4/2018, 4:04 p.m.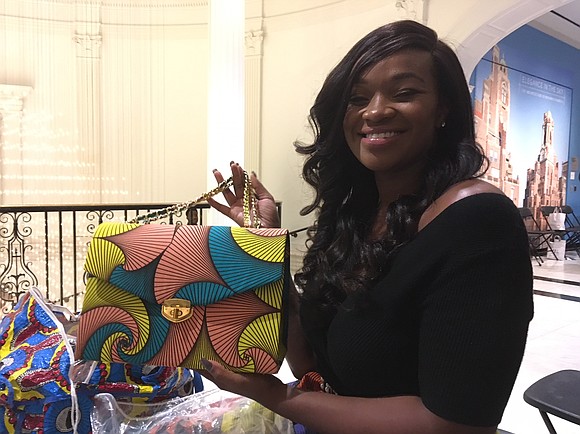 For fall 2018, handbags take center stage. The more eccentric the design, the better. Larger totes, often called hobos, were recently shown on the runway at Victoria Beckham's show. They are more stylish today, and bagging it up, bigger than ever. For a more conservative look, there are boxy-shaped lady-like bags with top handles. The boxy bag is back. Look for the unique shapes, furry bags, animal prints, logo hits, yet roomier styles. Choices are still captured in clutches, hand-held types or should bags. Prints (floral, abstract, African) are present.
Spotted at Harlem Fashion Week, handbag designer Tarise Franchise held a private preview of her beautiful bag collection. She just returned from last weekend's Circle of Sisters event at New York City's Jacob K. Javits Convention Center. The Olayemii handbag collection was a huge success.
Franchise has worked in the fashion industry, designing formal wear, for the past seven years. In January 2017, she traveled to Lagos, Nigeria, searching for new business opportunities. She discovered a wonderful culture and vibrant African art. On her second trip to Nigeria in April 2017, she launched the company Olayemii, which means "I am worthy of wealth." This time, the young New York designer found amazing Nigerian tailors to execute her business idea. She found the African Ankara print fabrics that her Nigerian team made into luxurious hand bags and apparel. She was overjoyed and finally in business. Olayemii is a sophisticated collection of premium Ankara printed bags and accessories. Each high-quality piece is handcrafted by artists in Nigeria. The company also provides jobs for Nigerian women to help support their families. These women are the actual tailors who manufacture the bags.
What makes the Olayemii bags unique is their African Ankara print fabric that's juxtaposed with traditional-styled handbags. These bags are lined with velvet. In Western styles, there are shoulder or handbag pieces, top-handle shapes and structures of the bags.
"I brought this new style and newly founded idea to America," Franchise explained. "I wanted to take the talent I have in choosing beautiful fabrics and put it into a line that's different and innovative."
The designer's passion is to showcase the rich cultural heritage of Africa and Nigeria. The Olayemii woman is fashion forward and trendy. She is a woman who wants to stand out in a crowd. She appreciates luxury and the African culture. The company's mission is to become a household name. Olayemii Bag handbags and apparel are now recognized worldwide. This collection is available at www.Olayemii.com.