'Black Panther' costume designer to receive Madiba Humanitarian Award
NADINE MATTHEWS | 10/5/2018, 1:36 p.m.
Oct. 13, famed movie costume designer Ruth Carter will receive the Madiba Humanitarian Award from the Bedford Stuyvesant Museum of African Art. Known for her many years of creating costumes for films such as "Mo' Better Blues," "Amistad," "The Butler," "Selma" and most recently, the blockbuster "Black Panther," Carter has also been costume designer for television shows such as "Being Mary Jane." Despite all this admiration, Carter is, according to the museum's founder, Vira Lynn Jones, very humble.
"I found her to be very humble," said Jones. "She has done costumes for 45 films, and her costumes have always shed light on historical African-American figures in a very positive light. She does her job with dignity and a sense of giving back."
The theme of this year's awards ceremony is "Education: A Forceful Weapon Empowering the World's Children."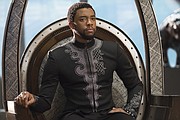 "Everyone who receives a Madiba Humanitarian Award," said Jones, "represents some incredible quality that Mandela exhibited toward helping humanity."
Some of the award's past recipients include actor Isaiah Washington ("Behind the Movement," "Grey's Anatomy"); Dr. Nadia Lopez, founding principal of Mott Hall Bridges Academy; and Brian Stevenson, founder of the Equal Justice Initiative and the National Memorial for Peace and Justice.
Jones, a graduate of the Columbia University School of Journalism, had heard some reactions to African art from Black children that disturbed her and became a strong motivating factor for founding the museum and making it an interactive, "educational" museum.
"What really pushed me into starting the museum was hearing Black children say things like 'Mommy, look at these statues, they're so ugly,'" Jones explained. "I felt there was something really wrong. Our children—Latino, Black, even whites need exposure to other cultures, and that's what I want to do with the museum. It's going to be a big educational opportunity for them."
A world traveler who has visited numerous countries in Africa and Europe, and has taught in China, Jones has been a collector of African art for more than 30 years. She turned to it in earnest in 2002, however, in the wake of losing a lucrative job.
"In 2002, I lost my job and it was very humbling going from a six figure job to four hundred dollars a week. To keep myself afloat I started selling African art on the street. My neighbors in Clinton Hill where I was selling said it would be wonderful if we had a museum of African art in the community. I met people from Sweden, Martinique, just all over the world, who had actually traveled to Africa to collect African art and enjoyed African art."
The choice of Bedford-Stuyvesant for the location of her museum was an easy one for a number of reasons. Jones said, "In this area, you'll find the largest population of African people outside Sub-Saharan Africa. And then of course there's a large African-American and West Indian population, so I thought Bedford-Stuyvesant was the perfect place to put a world-class art organization in an underserved community."
Jones feels that it is also because of a lack of education that people sometimes fail to see the intersection of costuming with fine art. She said, "We don't understand or go out of our way to teach in school about other people's cultures. In 'Black Panther' when Angela Bassett wore the headdress, that's a married Xhosa woman in South Africa. It meant a lot. That's the queen!"