'Black Panther' costume designer to receive Madiba Humanitarian Award
NADINE MATTHEWS | 10/5/2018, 1:36 p.m.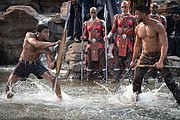 The same lack of knowledge drives the way that African art, which she describes as often being utilitarian, is misunderstood. "There may be a mask that's meant to get rid of illness, or a statue that is meant to ward off evil spirits," she said. "So when people say 'It's ugly,' I say it's supposed to be. It's supposed to scare evil spirits."
Although impressed with Carter's whole body of work, because of her firsthand familiarity with many of the people of Africa, Jones was stunned by the enormous attention to detail in the costuming for "Black Panther."
"I have to tell people she did some incredible research, because all the costumes are actual costumes and some of the clothing that people wear in African countries," Jones said. "Everything she did was authentic."
The Madiba Humanitarian Award, of course, grew out of Jones' love for one of the most famous political prisoners in history, Nelson Mandela. Madiba is a term of affection in the Xhosa language that means "father." In tears after hearing of Mandela's death in 2013, Jones made a decision.
"Something had to be done," she said. "I loved him like he was my dad. We had to continue this man's legacy. Nelson Mandela sacrificed and gave a lot fighting for equal rights for everyone. So that's when I came up with the Humanitarian Award."
She received an official letter from the Nelson Mandela Foundation in South Africa sanctioning the award as well as help setting up a permanent memorial wing dedicated to Mandela in the museum.
Other honorees at this year's ceremony, which will be held at the Brooklyn Museum, include Rob Garris, Kevinee Gilmore, Minister Tony Muhammad and James Shaw Jr. There will be performances by students from the Dwana Smallwood Performing Arts Center, Lillias White, African stilt walkers, Gumball dancers and Guro mask dancers.
For more information, visit https://www.bedstuymuseum.org/.