Ed Clark retrospective at Mnuchin Gallery thru Oct. 20
Herb Boyd | 10/5/2018, 2:03 p.m.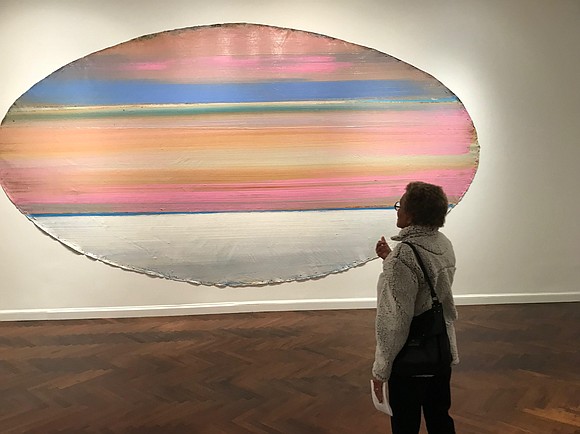 It's been nearly forty years since artist/painter Ed Clark has had a retrospective of his long and highly productive career. That drought has come to an end with an "Ed Clark: Survey" at the Mnuchin Gallery, featuring paintings and works spanning six decades, from 1962 to 2013.
The most compelling piece is on the gallery's second floor, and the oval painting occupies nearly the entire wall. Entitled "Intarsia," it's an acrylic on canvas with a flood of arresting colors, which are hallmarks of Clark's style.
While this is a commanding piece of art, other paintings are equally impressive, particularly those where his broad brush strokes, like the sweep of broom that he began using years ago, are prominent.
In this survey of Clark's career—he was born in New Orleans in 1926 and raised in Chicago—you can witness his gradual absorption into the realm of abstract expressionism, though there's one self-portrait at the front of the gallery, demonstrating his figurative abilities. He is credited with being the first artist to exhibit a shaped canvas [a radical departure from the rectangular canvas] in the U.S. in 1957. Added to this innovation is his creation of paintings on the floor using a push broom, thereby combining the use of a tool of menial labor into an instrument of high art.
During a profile several weeks ago on Jack Whitten in these pages, Clark's name popped up, indicating he had visited Whitten at his home in Crete in 1974. The light and landscape there, he said later, had a profound impact on his later paintings and drawings.
Along with this retrospective at the Mnuchin, Clark's work can be seen in the traveling exhibition, "Soul of a Nation: Art in the Age of Black Power" at the Brooklyn Museum through Feb. 3, 2019.
The exhibition at the Mnuchin, curated by Sukanya Rajaratnam, runs until Oct. 20.

The gallery is located at 45 W. 78th St. and Madison Ave. Call 212-861-0020 for additional information.