Talking SCHOP! Wild on Wilde at Oscar Wilde
Kysha Harris | Food Editor, @SCHOPgirl | 10/5/2018, 2:36 p.m.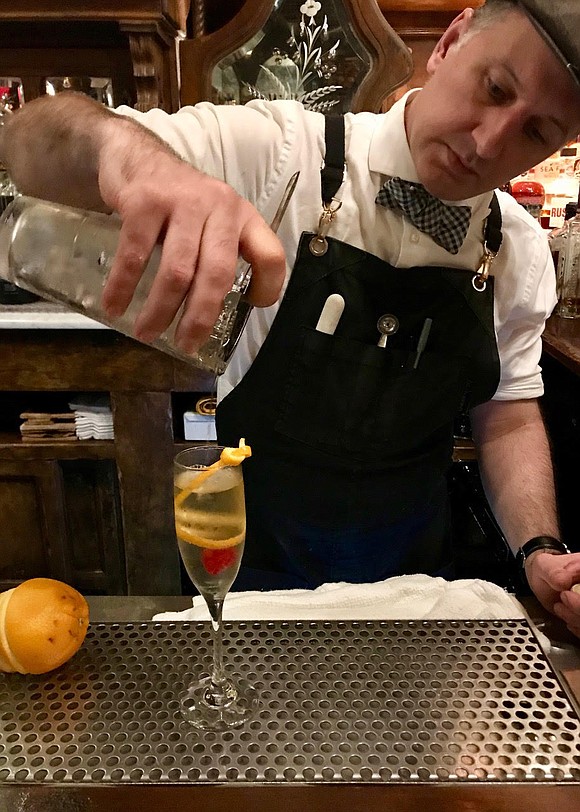 Last week I ventured out of Harlem to the NoMad district to get my literature, history and cocktail on. I donned my most bookish Warby Parker eye glasses, called a friend and headed to Oscar Wilde (@OscarWildeNYC, 45 W. 27th St., 212-213-3066, www.oscarwildenyc.com).
We arrived at the lavishly designed Victorian space in time for the after-work crowd. Even filled with patrons, the space has the most presence. From the collection of statues, most importantly of Oscar Wilde, one in front and one leaning against the bar (hand open waiting for a pint of Guinness), to the gold-gilded Corinthian columns, to the wallpaper and antique frames walls, to the stained glass and the tin ceiling and HVAC ducts, it is a period masterpiece. To boot it is NYC's longest continuous bar at 118.5 feet!
The convivial manager, Luis Martinez, showed us to our reserved seats at the whiskey bar and introduced our bartender for the night, Kris Baljak. Now, I do not cocktail often, but when I do, it is bartenders like Kris who must be at the helm. He served me what I am now coining "cocktail theatre" (copyright 2018) realness, and I am here for all of it!
Kris started us with one of Oscar Wilde's newest cocktails in honor of their partnership with the Film Forum and the debut of "The Happy Prince," starring Rupert Everett about Wilde's final years, opening Oct. 10. Because Wilde believed "pleasure without Champagne is purely artificial," the cocktail is just that with vodka, Cocchi Americano and plum bitters with an orange twist. Went down real easy…too easy.
The Happy Prince cocktail will debut on the same day as the film, through Oct. 31. And your Film Forum "The Happy Prince" movie stub will get you one complimentary specialty cocktail so you and your crew can recap the film! Also follow Oscar Wilde and Film Forum on social media for the chance to win a $100 gift card and tickets to the film.
Now back to drankin'…For every drink Kris put before us, there was a history, a story and a fun fact about Wilde. I cannot recall these rich stories now because I did not take notes because…I was drankin', but Kris will bless you when you see him.
Of all the drinks we enjoyed watching and consuming that evening—My Love for Bosie (cantaloupe infused gin), Lady Esparanza (rum, lime, hibiscus), Cemetery Gates (cinnamon smoke infused rye)—my absolute fave was Bella Donna. We are talking banana infused Jameson, cocoa, stout beer with a pumpkin whipped cream float. It was the cocktail of my banana and chocolate obsession dreams!
A true "this is NYC" evening!
Happy eating and thanks for reading!
Kysha Harris is a food writer and editor, culinary producer, consultant and owner of SCHOP!, a personalized food service in NYC for more than 15 years. Follow her on Twitter and Instagram, @SCHOPgirl, on Facebook, /SCHOPnyc, and her blog, www.talkingSCHOP.wordpress.com. Questions? Comments? Requests? Feedback? Invitations! Email AmNewsFOOD at AmNewsFOOD@SCHOPnyc.com. Follow us on Instagram, Twitter and Facebook @NYAmNewsFOOD and tag us with #SoAmNewsFOOD with your food finds!