Jazz Notes: Johannesburg Joy of Jazz Festival
ron | 10/11/2018, 3:31 p.m.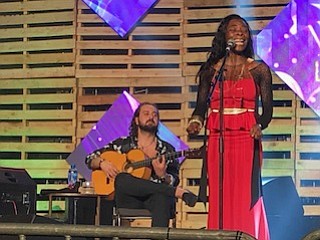 In Johannesburg, South Africa, spring is in the air as the Joy of Jazz Festival, now in its 21st year, resumed its obligation to increase spring's thermometer by bringing in yet another incredible list of international artists who brought the Celsius to its boiling point and people to their feet during the three-day jazz festival (Sept. 27-Sept. 29).
As Mayor Herman Mashaba of Johannesburg stated, "What better place to have a jazz festival than in the heart of this great city, where music is a part of our life."
How does one choose while in a major part of the motherland where this music began with just the beat of the drum, rhythms of indigenous instruments and the unique voices of many dialects interacting across the continent?
Well, opening night was easy with the Horn Summit, an all-star tribute to the trumpeter, composer and human rights activist Hugh Masekela. Their repertoire included his hits and lesser known compositions that spanned his sparkling six-decade career. The large ensemble featured previous band members from over the years that included trumpeter Sidney Mavundia, flugelhornist Lwanda Gogwana, vibraphonist Ngwako Manamela and vocalists Suthukazi Arosi, Pu2ma Tiso and Complete (a dynamic acappella group), who at times reminded me of Take 6, but their African rhythmic flow was paramount.
When visiting and exploring Africa's music tree, we witness and enjoy its similarities and differences, but more important we feel it in our bones.
The ensemble played everything from "I Want to be There," to "Part of a Whole" from Masekela's "Home Is Where the Music Is" (1972), to the heavy harmonized vocals of "Stimela," about brothers taking the train to work in the coal mines for months at a time, to his worldwide hit "Grazing in the Grass." As the band acted out on solos and in improvisational unison, still pictures appeared on the large screens of Masekela in various stages of his life, including his New York City marriage to Miriam Makeba in 1964. Masekela's spirit was in the house jamming with his protégées.
Next up on the Dinaledi Stage was the vocalist who has always had her own voice, Cassandra Wilson. The USA homegirl reconstructed the well-traveled standard "You Go to my Head" into an up-tempo tune. A redirection that only Wilson would think of, and making it work is her magic. Her smoky timbre, the way she speeds phrases or slows them down at her improvisational will, is her way of enticing audiences into her daring web.
Seeing her in any setting is always a treat because every appearance is another exploration. Her fine-tuned group included longtime collaborator bassist Lonnie Plaxico, guitarists Kelvyn Bell and Melvin Sewell, pianist John Cowherd and drummer John Davis.
The evening ended with the saxophonist David Sanborn, who went into a swinging up-tempo "For You" and "Nica's Dream," followed by a variety of his many hits that went deeper into smooth jazzville.
One of the festival highlights was the Nairobi Horns from Kenya. Their ingredients include a healthy mix of music from the streets of Kenya. "Our sound is an African groove from our localities, the sound of Africa," said the trumpeter, leader and founder of the group, MacKinlay Mutsembi.