Talking SCHOP! A delicious Harlem Harvest Festival
KYSHA HARRIS AmNewsFOOD Editor, @SCHOPgirl | 10/11/2018, 3:17 p.m.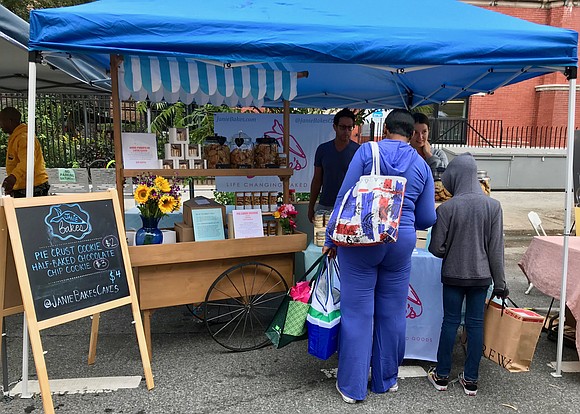 Harlem Park to Park continues to expand their annual Harlem Harvest Festival to great success. This year's festival was no exception, with live music, children's activities and food, beauty and art vendors. Rain could not keep event goers away!
I was invited again to judge the annual Harvest Bake Off, sponsored by Whole Foods. I am always so excited to see former contestants return for redemption or to add to their ribbon collection. I am even more excited by new bakers testing their skills for all of Harlem to see.
While contestants were delivering their sweet submissions, I walked around to see some of the vendors and meet makers participating in the Harlem Local Vendor program as they met with Whole Foods representatives about their products. I always appreciate this event for highlighting the business of food and the Harlem food makers in it.
Sundae Sermon DJ Stormin' Norman always soothes my ears with his world music selections. However, The Foundation Band and their lead singer took me to another level with musicality and outstanding vocals.
Before I tasted 25 sweets entries, I needed coffee and something savory. I saw my peeps at Double Dutch Espresso (@DoubleDutchNY) for my caffeine and at the Little Hotdog Wagon (@LittleHotdogWag) for their all-organic relish on a wiener. Owner Dawn Demry also blessed me with a chili cheese dog! I was then ready for the sweets.
I began my judging with the cookie category. There were some great cookies in the category, but my hands down favorite—and it would turn out to be first place and fan favorite winner—was the pecan pie crust cookie from Janie Bakes (@JanieBakes). Their slogan of "life-changing baked goods" does not lie. I had to commandeer a couple of these for future "testing."
Janie Bakes also took first place and fan favorite in the cake category with their pumpkin caramel pecan cake with cream cheese frosting. Crazy good! I made off with a piece of this cake and a piece of the second-place winner, Sweet Milk & Sugar's (@SweetMilkSugar) pecan custard cake. I think I need to dip into these two right now!
Congratulations to all of the Bake Off winners, in all categories (pie, cake, cookies and brownies). Congratulations also to vendors, Africa Herbs (Most Professional), Soak NYC (Most Creative), Rubarama (Most Approachable) and Yummble Bee's (Most True to Your Brand), for your wins.
For a complete list of winners and review of the festival, visit
www.harlemparktopark.org.
Happy eating and thanks for reading!
Kysha Harris is a food writer and editor, culinary producer, consultant and owner of SCHOP!, a personalized food service in NYC for more than 15 years. Follow her on Twitter and Instagram, @SCHOPgirl, on Facebook, /SCHOPnyc, and her blog, www.talkingSCHOP.wordpress.com. Questions? Comments? Requests? Feedback?  Invitations!  Email AmNewsFOOD at AmNewsFOOD@SCHOPnyc.com. Follow us on Instagram, Twitter and Facebook @NYAmNewsFOOD and tag us with #SoAmNewsFOOD with your food finds!