Nevis—a small island with huge appeal
Sheryl Nance-Nash | 10/18/2018, 2:47 p.m. | Updated on 10/18/2018, 2:47 p.m.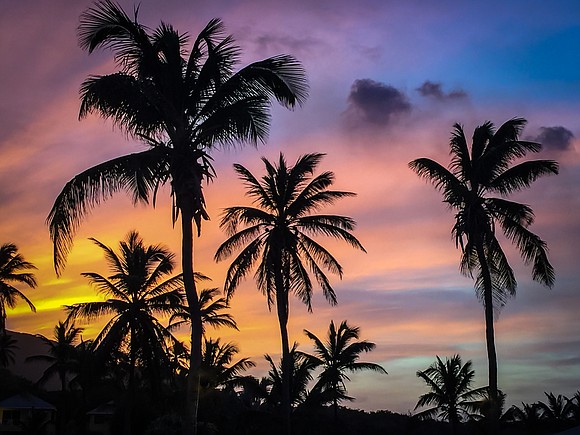 Big isn't always better. Take the small island of Nevis. Set in the Leeward Islands of the Caribbean, it's just 36 square miles in size and home to some 12,000 people, yet Nevis is more than anough to capture your heart.
Mount Nevis, a 3,232-feet-high dormant volcano always surrounded by mist, is magical. Then there is the double dose of water wonders—the vibrant blue-greens of the Caribbean Sea and the Atlantic Ocean. The constant sunshine is the sugar on top. When you take the short water taxi ride from sister island St. Kitts to Nevis, the anticipation builds. You won't be disappointed.
There's nothing citified about Nevis, with its rolling countryside, wild donkeys, goats, chickens, cows and green vervet monkeys. The vibe is chill and the beaches so beautiful even if water isn't your thing, you just may not be able to resist a dip. Feast your eyes on Nisbet Beach, Pinney's Beach, Oaulie Beach, Lovers' Beach, Newcastle Beach or Windward Beach and you'll know why. You can't go wrong. For the adventurous, Scuba Safaris, out of Oaulie Beach, offers a variety of dives. You can also snorkel the reefs and look for sea turtles. Surf, Jet Ski, set out for a day of fishing, do a sunset cruise, horseback ride on Pinney's Beach, or simply stroll the shores with your honey.
Hikers love climbing to the peak of Mount Nevis. It's not for rookies. If that puts you on the sidelines, no worries, there's a lesser, but still thrilling time to be had hiking to the waterfalls. It's just adventurous enough that you'll earn bragging rights and stories to share when you get back home. You'll be surprised how tight you grip the ropes that keep you on your feet while winding your way through the forest. It's big fun. Get your heart racing and enjoy the serenity of being enveloped in greenery. That is what you came for—to see and conquer. If you're more of a walker, go to the Botanical Gardens of Nevis. There are five-acre gardens with tropical plants from around the world, dolphin fountains, cascades, water lilies, more than 100 species of palm, orchids and more. Hungry? Head upstairs to the Oasis Bar and Restaurant for a spectacular view of the island and authentic Thai food.
History buffs, Nevis is where you'll find Cottle Church, the first church in the Caribbean built for all people, regardless of color, to worship together. The Broadway hit "Hamilton" has Alexander Hamilton in the spotlight. His birthplace is Nevis. On the waterfront, near the heart of Charlestown, the nation's capital, founded in 1600, is Hamilton House, a Georgian-style building that is the site where he was born and raised, and today is the Alexander Hamilton Museum. Walk around Charlestown and the past is ever present. The Jewish Cemetery is one of the oldest in the Caribbean, with graves dating back to 1679. The Nevis Slave Market from the 1670s was where newly arrived enslaved Africans were sold to plantation owners from various islands.