New York Comic Con was colossal!
Linda Armstrong | 10/18/2018, 2:43 p.m. | Updated on 10/18/2018, 2:43 p.m.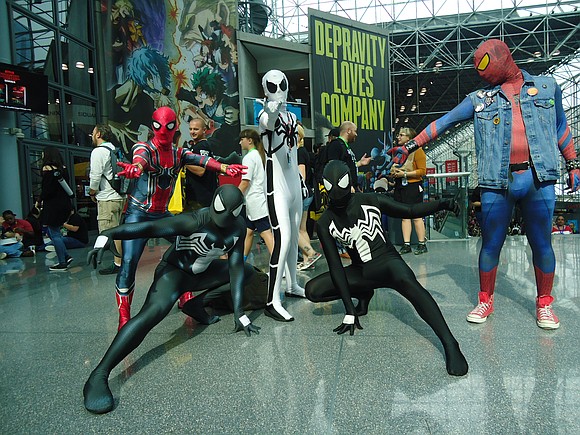 Oh my God, all the costumes, crowds, excitement! God I love New York Comic Con! There is something for everyone, from comic books, to new video games free for the testing, to panels featuring casts from sci-fi and cartoon shows. There were interactive experiences such as Audible's "Harry Potter, a Pensieve Experience," which celebrated 20 years of Harry Potter. Harry Potter books from the J.K. Rowling series were presented by Audiobooks, narrated dramatically by Jim Dale. Visitors could pick from the six main characters of the Harry Potter series—Harry, Hermonie, Ron, Lord Voldemort, Dumbledore and Snake.
You pick a bottle that has the memories of one of those characters and in a mystic setting with fog above your head and shimmering, white curtains around you, you stop at a station, put on headphones and listen as Dale tells you a memory of one of the characters. My 16-year-old daughter Jasmine choose Hermonie, and I choose Ron. Listening to the memories of these characters really helped one to realize how deep Harry Potter movies go and how they give you these amazing young characters who are fighting evil and risking their lives to make sure that good wins out. It was inspiring to listen to the memories of these characters.
There were amazing sports cars on display with themes for Disney's 90th anniversary of Mickey, the 25th anniversary of the "Nightmare Before Christmas" and Disney princesses. There were panel discussions happening all over. They featured participants such as the cast and creative team of "Gotham." There were artists all about in booths with original paintings, drawings and photos of superheroes.
Everywhere you looked, there was an abundance of themed T-shirts being sold for cartoon characters, comic characters and sci-fi TV show characters. There were dolls, stuffed animals and figurines. There were interactive rides, and you could take a picture that placed you on Mars and it was emailed to you for free. There were a lot of free giveaways for fans. There were free T-shirts and a place in the fan lounge for fans to create art or become a work of art as artists painted fans faces for free as whatever character they desired. You could also charge your cellphone for free.
Comic Con is something that for four days takes over New York City and it should. It is something that you will never forget. You see people in some of the most phenomenal costumes—Captain Marvel, Sailor Mercury, Sailor Mars, Sailor Venus, Harley Quinn, Princess Sincerity, Snow White, Alphaba, Glenda the Good Witch, Rick and Morty, the Incredibles, the Riddler, Mulan, Starfire (Teen Titans), Giselle, the Black Panther, the Scarecrow, Jason, Freddie Kruger, Spiderman, Belle, Wonder Woman and so many more. And, it's not just adults in costumes, there are children dressed in costumes from head to toe.
Comic Con is just an amazing family event. It's like the entire Jacob Javits Center is filled with absolute fun everywhere you look. The atmosphere is electric as you hear games being played and you hear fans cheering for celebrities they spot. There are celebrity photos and autograph opportunities. I recommend this event very highly.