New York Comic Con was colossal!
Linda Armstrong | 10/18/2018, 2:43 p.m. | Updated on 10/18/2018, 2:43 p.m.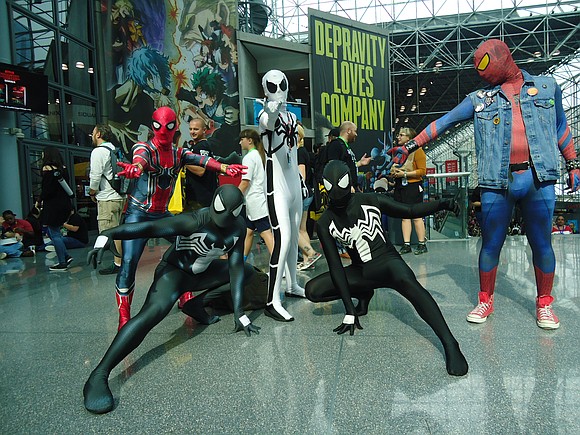 Last year, Jasmine and I were so excited to see and interview the cast and creatures of "ShadowHunters," our favorite Freeform show. This year wasn't as happy an occasion. The show doesn't know if it's going to get another season. It is currently nominated for five People's Choice Awards, and Comic Con was a chance for its fans to show their love and support as E People's Choice Awards had voting areas where fans could vote for their favorite sci-fi show. Of course, you know what my daughter and I voted for. Fans of the show have also started a campaign called "Save ShadowHunters," and this movement has been joined by "ShadowHunter" fans from all over the world. Fans at New York Comic Con were treated to Katherine McNamara, who plays Clary Fairchild, making a surprise appearance. She handed out free doughnuts, took pictures with fans and gave out autographs on large postcards she had. Now, you know that my daughter and I had to say, "Hello," and mention that we interviewed her last year. And, believe it or not, she looked at my daughter and said, "Jasmine, right?" My daughter was so excited that McNamara remembered her.
In January, fans have 12 new episodes coming, but who knows after that. Considering the show's future or possible lack of after the 12 episodes, McNamara was very upbeat as she shared, "I think that in this world where everyone is so divided and everyone is battling against each other right now, I think it's amazing to see a group of people who are fans of the same thing all come together to celebrate something that is ultimately about love, acceptance and unity. Because I think we need that in this world right now. No matter what happens to the show, even if it's coming to its close, that doesn't mean the 'ShadowHunters' fandom has to go away. It's going to keep going as we all go on to other things."
Comic Con had things for every member of the family and so many things that were free activities, such as Crunchyroll, where a pit of stuffed animals—Bananya Plushie Pool—was set up. Children had to walk in backward, and then allow their bodies to fall back into the soft, stuffed animals.
Comic Con is truly a place for creativity; at Bean Boozled, an artist completed a portrait of Harry Potter made completely of colorful jelly beans. There were interactive exhibits that took reservations, such as She-Ra and The Princess of Power.
There were all types of food carts at Comic Con. There was no space on any of the levels of Jacob Javits Center that didn't have something fun, captivating or engaging happening. New York Comic Con is something that I truly look forward to every year. You must make plans to go next year and in years to come. I saw so many fantastic, delightful sights with my daughter, and if you go experience it with your family, it will be something that you plan to go to every year. Now, of course you'll need to put aside souvenir money because everyone wants a T-shirt from their favorite show, a mug or pin. What I love best about New York Comic Con is everyone is just there to have a blast, everyone is in great spirits and it is a place where New Yorkers are at their best!