Proud Boys bring hatefest to NYC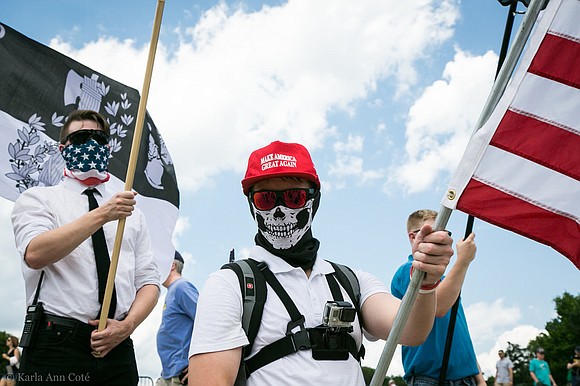 A leader of a hate group spoke at a New York GOP event on the Upper East Side last week. Chaos and violence ensued. Elected officials and activists have called for the arrests of those involved.
GOP officials have deflected blame, accusing anti-fascist leaders of starting the melee.
Last Friday, Gavin McInnes, leader of the Proud Boys, co-founder of Vice Media and a self-proclaimed "Western chauvinist," spoke at an event hosted by the Metropolitan Republican Club in Manhattan. After the event, members of McInnes' group took to the streets and ended up beating down protesters. One video, taken by freelance reporter Sandi Bachom, showed them kicking a couple of protesters while screaming homophobic slurs. The Southern Poverty Law Center identified at least three skinheads from a local far-right group called the 211 Bootboys in the video, including Joe Bola and Dennis Davila (who runs a hate music record label called United Riot Records).
Before the event, McInnes posted on Instagram that he planned on reenacting the assassination of Japanese socialist Inejiro Asanuma by teenage Japanese ultranationalist Otoya Yamaguchi while brandishing a samurai sword. He referred to the killing as inspirational. After Friday's events, no Proud Boys were arrested, but several anti-fascist demonstrators were.
The Proud Boys are designated as a hate group by the Southern Poverty Law Center.
Loyda Colon, a representative for Communities United for Police Reform, said the New York Police Department and New York City Mayor Bill de Blasio need to crack down on the Proud Boys and wondered aloud why they let the violence happen in the first place.
"Let's be very clear about what happened: white supremacists were given special treatment by the NYPD, and Mayor de Blasio did nothing to stop it," said Colon in an emailed statement to the AmNews. "On Saturday, NYPD officers were on the scene during the Proud Boys' bigoted attack. The NYPD officers let these heinous white supremacists walk away after they brutally beat anti-racist protesters. Instead of arresting Gavin McInnes and the Proud Boys on the spot, the NYPD arrested several anti-racist protesters. This is outrageous and wrong."
Colon concluded, "The NYPD refused to arrest Proud Boys founder Gavin McInnes, who brandished a sword, and refused to hold white supremacists accountable for their violent actions."
Since being criticized for its slow call to action, the NYPD has released video of the men who engaged in violence, identifying nine men in particular that they are looking for.
At a news conference Monday, NYPD Chief of Detectives Dermont Shea said, "We have … nine individuals that we feel confident we can sustain charges of riot or attempted assault."
But recently, McInnes—while speaking on Westwood One's "Get Off My Lawn" podcast—praised the police department and claimed that the views of his group are shared by many of the city's finest.
"I have a lot of support in the NYPD and I very much appreciate that, the boys in blue," said McInnes on the podcast.
This week, New York State Gov. Andrew M. Cuomo called on the Federal Bureau of Investigation to look into the Proud Boys incident once the videos and reports were made public. During the announcement, Cuomo described the group.