Proud Boys bring hatefest to NYC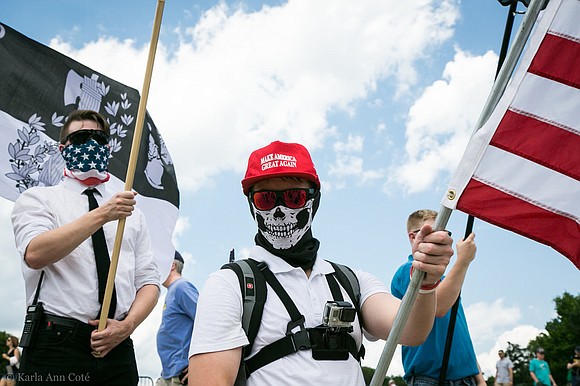 "The Proud Boys are anti-woman, they're anti-immigrant, they're anti-Muslim," said Cuomo. "They call themselves Western chauvinists and their agenda is to stop anti-white guilt. The Southern Poverty Law Center says they are a designated hate group. They are anti-equality, because they believe equality is negative for white people. They were a major participant in the Charlottesville rally, and they are a pro-Trump group and organized vociferously during the Trump election."
Cuomo continued, "They have a history of violence; there was a prior incident in New York City when they appeared at New York University. They've had incidents of violence all across the country, in Charlottesville, in Portland, in Berkeley. And violence is part of their agenda."
Cuomo also suggested, while speaking as a guest on the Rev. Al Sharpton's "Keepin' It Real" radio show, that even inviting the Proud Boys to an event was a cynically and politically motivated move.
Although most elected officials have denounced the white supremacist group for inciting violence, New York GOP Chairman Ed Cox played the game of "both sides do it" and said the governor, the mayor and New York City Council Speaker Corey Johnson should denounce all political violence, comparing anti-fascist vandalism to the Proud Boys' physical violence.
"Instead of joining together to outright reject political violence, Governor Cuomo, Mayor de Blasio, Speaker Johnson and others have cravenly politicized these series of events, spread misinformation and insulted the integrity of the NYPD, who have conducted themselves with the utmost professionalism," said Cox in an emailed statement. "We remain completely confident in the NYPD and committed to the safety and protection of all New Yorkers, regardless of race, religion, gender, party affiliation or views with which we may not agree."
McInnes founded the Proud Boys in 2016 as a direct response to a song on Disney's Aladdin soundtrack called "Proud of Your Boy." According to McInnes, he heard the song at a children's recital and thought it to be a fake and self-serving attempt to make boys apologize for being who they are. The Proud Boys believe they shouldn't have to apologize for "creating the modern world."
New York City Council Member Rory Lancman, chair of the Committee on the Justice System, which oversees the Mayor's Office of Criminal Justice and the city's five district attorneys, said McInnes and his group need to know that they're unwelcome in the five boroughs and will be prosecuted for any illegal behavior.
"Hateful and violent behavior has no place in New York City, and those responsible must be arrested and prosecuted to the fullest extent of the law," said Lancman. "Additionally, the Mayor's Office of Criminal Justice must convene a task force including the NYPD, the district attorneys and other relevant agencies and offices, to develop a comprehensive strategy to combat white supremacist violence in our city and ensure that what we saw on the streets of New York last night never happens again."