Apollo—Black and proud at 50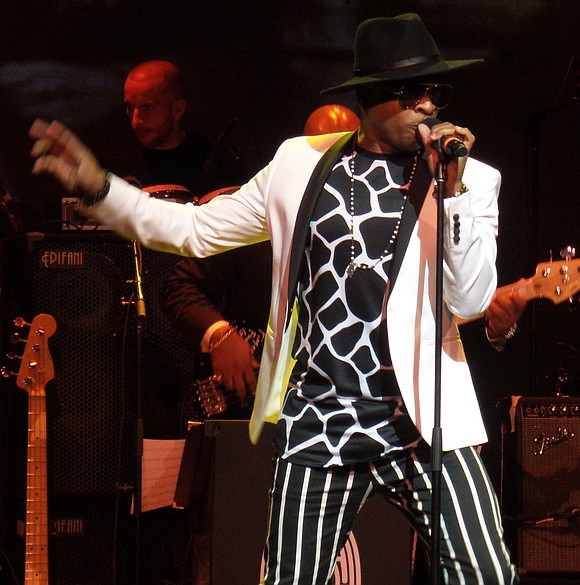 Sometimes it's not just about singing. You need that extra umph, that proverbial battery in your back. Where does that come from? I guess realistically it varies, but idealistically, here's a theory.
From the gate we know that the bulk of the music we consume, and connect with, is about love of a person. Some, however, venture out on a limb. Five decades ago, when he was Soul Brother No. 1, an artist gave a boisterous declaration of how he felt when he looked in the mirror. That statement was about the love of a people: "Say It Loud—I'm Black and I'm Proud."
A little research unearthed a quote from James Brown himself that stated, "I'm more than just an artist." Brown declared in a 1968 Apollo performance, "I want you to know that I'm a man, a Black man, a soul brother." That's why, some 50 years later, the Apollo Theater was at capacity to celebrate the anniversary of the title's release with "Say It Loud—I'm Black and I'm Proud at 50."
Curated by musical director, multi-Grammy Award winner Christian McBride, the concert celebrated the music of not just the Godfather of Soul, James Brown, but other contemporary artists. We talking the likes of the Isley Brothers, the Staple Singers, Nina Simone and Curtis Mayfield, who championed the Black Pride mantra as well.
Highlights of the night in respective, artist/song selection listing were Nona Hendrix—"Someday We'll All Be Free"; Lee Fields—"Fight the Power"; Stokley Williams —"Soul Power"; Lisa Fisher—"Respect"; and Avery Sunshine—"Talking Loud and Saying Nothing."
Sunshine perfectly summarized what the night was about. In welcoming and acknowledging her family in attendance, she highlighted her mother, in-laws and children, multiple generations. "It was important to see those that made sacrifices, those going through the struggle currently and those who will have obstacles in the future under one roof to share this spirit," she said.
A few nights later, the spirit of 68 invaded the Barclays Center as part of the fourth annual TIDAL X: Brooklyn. The philanthropic benefit concert featured performances from Lil Wayne, Lauryn Hill, Meek Mill, Anderson .Paak, Kaskade, Normani, Kodak Black, Teyana Taylor, Bazzi, Lil Skies, Mozart La Para, Black Thought, Queen Naija, The Lox, Vic Mensa, BlocBoy JB, DaniLeigh, Danielle Bradbery, Jay Critch, Snoh Aalegra, SiR, Westside Gunn, Conway, Arin Ray, Jacob Banks, Cautious Clay and Patrick Droney.
Academy Award nominee Ava DuVernay joined the TIDAL X: Brooklyn lineup to recognize iconic Olympian Tommie Smith for his longtime fight for justice. As an athlete during the 1968 Summer Olympics, Smith set a record as the first man to complete the 200-meter sprint in less than 20 seconds, earning him a gold medal. As the athletes evolved, that accomplishment has been eclipsed quite a few times. What etched Smith and his fellow medalist and USA teammate John Carlos in the annals of history was the raising of the Black Power fist during the heralded "Star-Spangled Banner" (there goes that song again.) This year marks 50 years after he bravely used his place on the podium to stand up for global human rights and injustices around the world. Just trying to wrap my head around the furor that stirred.
Over and out. Holla next week. Til then, enjoy the nightlife.