Barry Jenkins confesses about 'If Beale Street Could Talk'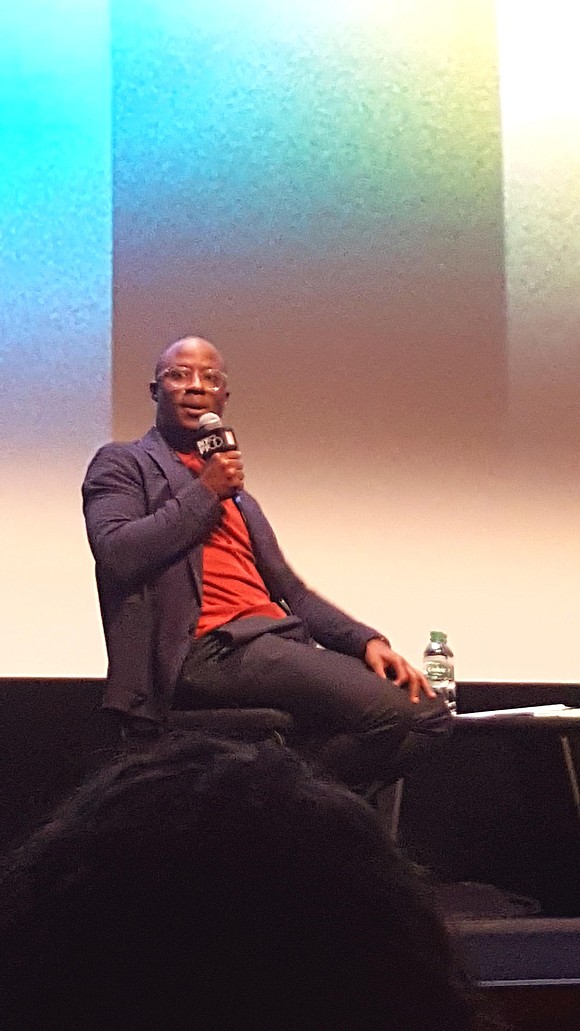 On a muggy day that felt more like August than October, Oscar winner Barry Jenkins took to the stage for New York Film Festival's free talk to give details about his highly anticipated film, "If Beale Street Could Talk," based on James Baldwin's novel of the same name. The film was screening at the 2018 NYFF, with its world premiere in Harlem at the famed Apollo Theater.
Before the event officially started, Jenkins took a moment to sing "Happy Birthday" to Eugene Hernandez, an executive at the Film Society of Lincoln Center and founder of Indiewire. In his introduction, the filmmaker made sure to give credit where credit is due, citing Hernandez for always being supportive from the very start of his career.
Moderated by Darryl Pinckney, a longtime contributor to The New York Review of Books and author of the novel "High Cotton" (winner of a Los Angeles Times Book Prize), Jenkins could not suppress his feelings about a recent profile of him that appeared in The New York Times, written beautifully by Angela Flournoy, a novelist ("The Turner House") and a 2018 National Endowment for the Arts fellow.
Jenkins was concerned about the tone of the article that painted him as a man without love in his life, or rather someone who doesn't value "love," despite the fact that all of his films (including his short films), in one way or another, focus on that complicated and universally understood theme—love. Searching for love. Being wounded by love. Motivated by love. Sacrificing for love. I've read Flournoy's profile, and I don't agree with Jenkins because my takeaway from her observation was that Jenkins is clearly driven by love.
In James Baldwin's novel "If Beale Street Could Talk," love is a central theme, sharing the spotlight equally with injustice while throwing a key light on the issue of incarceration of an innocent Black man—innocent being a key and important distinction. To say that the industry and audience have high expectations for the new film is an understatement. It is Jenkin's follow-up to the award-winning "Moonlight," a poignant film about Black manhood that many critics did not see coming until it arrived, steamrolling every other film that stood in its way.
"I fell in love with this book," said Jenkins. "This was one of the few times where I felt like Ms. Maxine Waters. 'I reclaim my time.' Because it was the summer of 2013, I had no money, my producer Adele Romanski got together a couple of thousand dollars and said, 'What do you need to do to write this material?' And I said, 'Oh, I need to go somewhere where I know no one.' So she got me a plane ticket and a few Airbnb's in Europe, and I divorced myself from the results of the experience. I just thought, 'I don't know anybody involved in the estate. I didn't have the damn rights.' I just took the novel with me and am like, 'I'm going to write this thing and the reward is going to be the pleasure of writing it.'"