Demonstrators protest against police brutality at the Fraternal Order of Police in Newark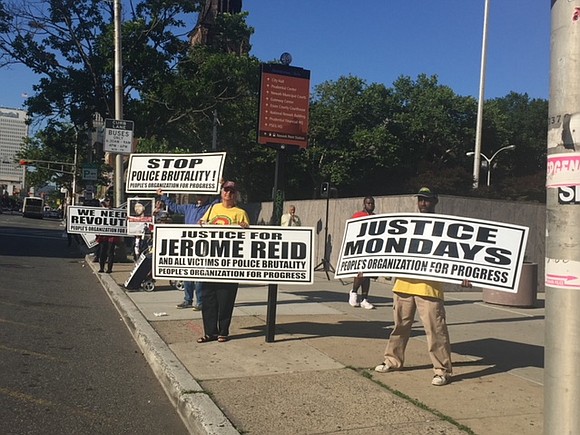 The People's Organization for Progress took their weekly Justice Monday rally to the doorstep of the Fraternal Order of Police in Newark.
The rally, which was P.O.P's regular Justice Monday, was part of the 23rd annual National Day Against Police Brutality. More than 20 actions all over the country have been confirmed in cities such as Chicago, St. Louis, San Diego, Sacramento and New York.
Organizers rallied at the FOP Headquarters to protest their legal challenge to Newark's Civilian Complaint Review Board, a civilian oversight board over the Newark Police Department that includes community input.
"The whole country wants us to win this fight," said activist Zayid Muhammad, who played a key role in mobilizing the rally and the courtroom presence back in March for Newark Communities for Accountable Policing.
The new CCRB was instituted by Mayor Ras Baraka by executive order early upon his taking office as a part of the reform of the Newark Police Department in accords with a federal consent decree. It went into law by a unanimous vote of the Newark City Council in 2016.
The FOP went to court to challenge the new Board's authority. Just months ago, Judge Donald Kessler ruled in favor of the FOP's claim. The city is appealing that ruling.