Ford's movie star glamour on the spring/summer 2019 runway
RENEE MINUS WHITE Fashion & Beauty Editor | 10/25/2018, 12:44 p.m.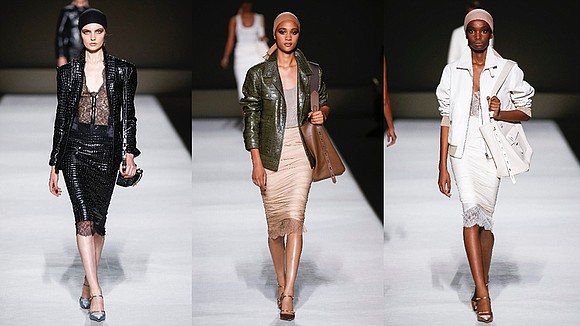 New York fashion designer Tom Ford pushes boundaries of fashion and beauty at his shows. For spring/summer 2019, models hit the runway in pretty hair scarves that added a new heady gear appeal to his outfits and gave his designs a '40s look. For day, skirts were tapered and tops were blousy. One would say it's all about the way you walk. But when Tom Ford's models stepped down the runway, the looks and the feeling were those of a movie star. You know, there's really no time to do hair, so put on a scarf. Somehow, you must still look glamorous. Some models had a curl or two hanging from the back. Whether models had their heads covered or not, there was still glamour in the air.
You could tell Netflix series were a big influence in this collection. There was attitudes, missing the cigarette holders. Think Betty Grable, Joan Crawford and Bette Davis. For day, lengths were just below the knee. Evening lengths were elegantly long.
Thomas Carlyle Ford wears two hats, one as a fashion designer and the other as a film director. His collection had the movies written all over it. Born in Austin, Texas, he studied architecture in Paris, France at Parsons School of Design but switched to fashion. Ford designed for Gucci in the 1990s and also worked there as a creative director. Ford launched his own brand and directed Colin Firth in the film "The Single Man." As a, child, his favorite pastimes included lying around his grandparents' pool. He also had an early interest in painting.
"I was always very visual and always interested in design," he recalled. "I don't mean that I sat around at the age of 5 sketching clothes. But if my parents went out to dinner and left me alone, I would rearrange all the living room furniture before they came back home."
Throughout his life, his parents were very encouraging. "If I wanted art lessons, they found paint and a teacher," said Ford.
His role models were his mother and grandmother. "My mother was very chic, very classic," he recalled. "My grandmother was very stylish in a very Texas way—everything was big and flashy, from jewelry to car."
In the 1990s, Ford combined the two styles when he redesigned Gucci images while living in Milan. There, he created womenswear.
"The images of beauty you get in your childhood stick with you for life," explained Ford. "So there's a certain flashness at Gucci—Texas inspired—with a Western feel."
On New York's Seventh Avenue, Ford designed jeans for Perry Ellis. Today, Ford is one of the most decorated designers. He continues to express his brand through youthful, sexually provocative campaigns.
"I guess I'm hyper-self-conscious about people thinking I'm egotistical," stated the designer. "But there's a difference between being egotistical and knowing your value as a product and an actor. I know my value as a product, and I've divorced myself as a human from myself as a product."
And that's show business, and the fashion business, too!