Hamiet Bluiett baritone sax virtuoso dies at 78
Ron Scott | 10/25/2018, 3:29 p.m. | Updated on 10/25/2018, 3:29 p.m.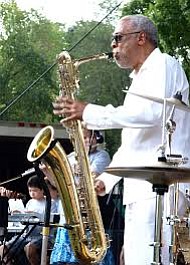 Hamiet Bluiett, the innovative musician and composer who gave new definition to the relevance of the baritone saxophone, died Oct. 4, at his home in Brooklyn, Ill. He was 78.
His granddaughter, Anaya Bluiett, said the cause of death had not yet been determined, but his health had deteriorated in recent years after a series of strokes and seizures.
Bluiett was known on the avant-garde scene, but his mastery of his instrument extended much further. During a performance, he could commit to an outrageous honking and wailing intensity, taking listeners on the edge of an American surreal moment. And the next tune could be a standard such as "You've Changed." Just the bellowing of the large baritone would make your heart tremble, and then Bluiett's sweet deep tones could bring tears to your eyes, or at least make you sigh.
"Hamiet will always be, in my mind, a most charming and unique individual," said media artist Coreen Simpson. "His smile and easy warmth was awesome. I felt I always knew him, like a member of my family. He had that effect."
Bluiett, not one to be categorized, worked with a variety of musicians, such as Sam Rivers, Babatunde Olatunji, Abdullah Ibrahim, Stevie Wonder and Marvin Gaye.
"It was Harry Carney, the baritone saxophonist in Duke Ellington's band, that really caught my attention," said Bluiett during an interview with me in 2017. "He had an active role in the band."
On moving to New York City in 1969, Bluiett joined the saxophonist Sam Rivers' orchestra. In 1974, he became a member of the Charles Mingus Quintet, which would be one of the bassist and composer's final bands.
Bluiett made his first album as a leader in 1976, after his departure from Mingus. His live recording, "Birthright," captured him in an intense 40-minute solo playing his big burly baritone.
In 1976, he co-founded the World Saxophone Quartet, which would become a part of his life's legacy and jazz landmark, along with Julius Hemphill, Oliver Lake and multi-reed musician David Murray. The WSQ released its debut album, "Point of No Return," in 1977. They have since released numerous recordings, including "Yes We Can," which celebrated the inauguration of President Barak Obama, recorded live in Berlin in 2009.
"Bluiett was a great friend, innovator and a master musician," said saxophonist, composer, arranger and poet Oliver Lake. "He spoke and played directly from his heart. I will miss him."
Between the WSQ and his own groups, Bluiett recorded approximately 50 albums as a bandleader. Those included solos, duets and full ensembles. In the late 1990s, he led the Bluiett Baritone Nation, with four baritones and drum set accompaniment, releasing one album, "Libation for the Baritone Saxophone Nation" (1998). In the 1980s, he also founded the Clarinet Family, a group of eight clarinetists playing clarinets of various sizes, ranging from E-flat soprano to contrabass.
Hamiet Ashford Bluiett Jr. was born in St. Louis Sept. 16, 1940, to Hamiet Sr. and Deborah (Dixon) Bluiett but moved as a child to nearby Brooklyn, Ill. (the first town in the United States to be founded as a free Black refuge community in the 1830s).