Halloween events for kids and families
Complied by Toussaint Carter | 10/26/2018, 3:07 p.m.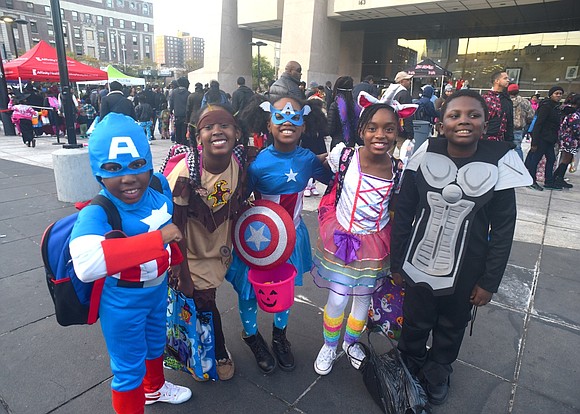 Halloween Trick or Treat Event
Wednesday, October 31
3 PM – 6 PM
The Coffee Break Company wants you and your family to join us at our restaurant, located on 3217 Philip Ave, Bronx, New York 10465, to take pictures with spooky guests. All children in costume will get a free treat from 3-6PM. All families are welcome! Click here for more information.
Halloween Open House
Wednesday, October 31
4PM - 6PM
Join the Woodside Ballet Co. and Kids Music Camp at the Kids Music Camp school 4910 43rd Ave, Woodside, New York 11377 for a song or dance in between your trick-or-treating! From 4-5PM there will be a Sing Along by Seunghee Han & William Berg followed by a Dance Party by Elizabeth McGuire & Jiyon Song from 5-6PM. We look forward to having a fun day with you! For more information about Woodside Ballet Co. visit https://www.facebook.com/WoodsideBalletCo/ or call (646) 250-1177.
Kids Halloween Costume Party
Wednesday October 31
4PM - 8PM
Wake up and Smile presents a Halloween costume party for kids ages 5-16 years old at the Wake Up and Smile Wellness Center located at 86-14 Parsons Blvd Jamaica, NY 11432. The party will have music, face painting and treats. For more information call (718) 487-3038, or email WakeUpSmile1@gmail.com
Cobble Hill Halloween Parade
Wednesday, October 31
4PM
This neighborhood favorite has been a tradition for more than 20 years. Organized by the Cobble Hill Association, this hour-long parade starts in the park and follows musicians that lead a procession of costumed families down Congress to Henry, around to Warren Street and back to the park. Kids can stop at stoops for treats along the way in one of the most active Halloween communities in Brooklyn. For more information about the Cobble Hill Association visit http://cobblehill.nyc/
BAMBoo at BAM
Wednesday, Oct 31
4PM - 7PM
Start your trick-or-treating off right at this free outdoor Halloween block party, located on 30 Lafayette Ave between Ashland Pl and St. Felix St. Family-friendly music and mischief kicks off at 4pm! The block party will feature, candy giveaways, carnival games, costume contest, arts & crafts and more. For more information visit https://www.bam.org/kids/2018/bamboo
Halloween Block Party
Wednesday, October 31
5PM - 8PM
Join the Court Square Civic Association and the Swillinger Team of Level Group for a Halloween Block Party at Murray Park AND 45th Ave between 21st and 23rd Streets in Court Square, LIC. 45th Ave will be closed to traffic for trick or treaters, and there will be a dog costume contest, prizes, arts and crafts, and much more!
Halloween Candy Giveaway
Wednesday, October 31
3PM - 8PM
The 44th Precinct in the Bronx is hosting a Halloween Candy Giveaway. The precinct is located at 2 East 169th Street. For more information call 646-342-0747.
Harlemween 2018
Wednesday, October 31
3PM
HarlemWeen is back around for another year filled with exciting events and activities you and your family can take part in. HarlemWeen will take place on 163 West 125th St New York, NY from at 3pm, at the Adam Clayton Powell Jr. State Office Building Plaza. At HarlemWeen you will experience face painting,pumpkin decorating, storytelling, and costume contests.It doesn't end there though, there will be a Harlem Thriller Flash Mob Street Dance & Thriller Video Presentation along with thriller dance lessons. Special guests will be in attendance including storytelling extraordinaire Daniel Clayton, DJ Stormin' Norman and Michael Jackson tribute artist Moses Harper. For more information visit their website at harlemween2018.splashthat.com