Comptroller Stringer gives New York City a 'D' grade on spending with M/WBEs
Nayaba Arinde Amsterdam News Editor | 10/30/2018, midnight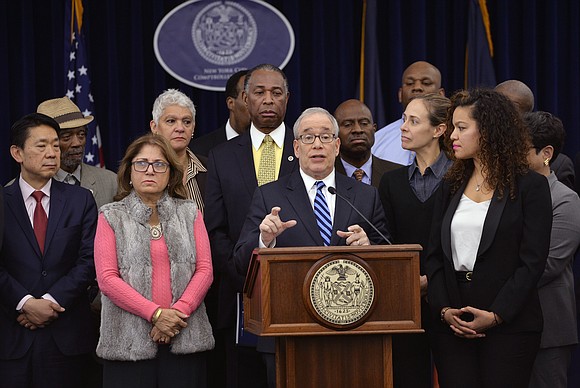 New York City prides itself in first place in can-do attitude, getting the job done and taking no nonsense from any quarter. A grade 'A' if you will. However, this week
City Comptroller Scott M. Stringer slammed the city with a 'D' grade for it's unequal and pitifully lack of funding of 'minority' and women-owned business enterprises (M/WBEs).
"This report shows that the city is still shortchanging women and minority owned businesses," he told the Amsterdam News in an exclusive interview."New York City spends $19.3 billion in procurements every year, and all of that spending every year goes to people who look like me and not the people who reflect the majority of this city – only 5.5% goes to women and minority-owned businesses."
In his no holds-barred fifth annual "Making the Grade" report, he evaluates each City agency's spending with M/WBEs, which in his own words showed that while overall spending with diverse firms increased in Fiscal Year 2018, 80% of certified M/WBEs are still not receiving any business from the City.
Since 2014 Stringer has been issuing his Making the Grade report in an effort to through exposure, to shame drive the City to improve its spending with diverse firms, and hold agencies accountable when they fail to do so.
The City should be concerned, he said that he has given a fourth-consecutive "D+" grade by awarding $1 billion in contracts to M/WBEs out of a $19.3 billion budget in FY18 – just 5.5 percent of the total budget.
Overall figures are bad, specifics are worse. While the City earned itself an atrocious 'D', it got an abysmal 'F' for spending with Black-owned firms. Meanwhile, spending with Asian-American firms earned the City a 'C,' with Hispanic-Americans a 'D,' and with women-owned firms a 'D.'
The city's chief numbers man said, "The city spends 19.3 billion dollars in procuring services; we hire law firms, accounting firms, food vendors. The city is big business, but of that 19billiion only 5.5% went to women and minority owned businesses."
That amounts to "just under a billion dollars. So here we are spending 19 billion dollars in a city as diverse as ours, and we can only spend a billion dollars with people of color and with women?"
Hence the reason why he as comptroller wanted to do this annual report he said, to showcase the reason why we are not creating wealth in all of our communities ...because the city is not giving contracts to women and minority owned businesses."
The infrastructure to bring about immediate redress is not in place, he said. Hence his call for multipleChief Diversity Officers (CDO) in all 32 city agencies. And, "Why we are working with community based organizations and faith based organizations, we have had a task force for the last five years."
However, he said, "It is not getting better fast enough. We have to give more opportunities to people of color... This is a majority minority city and yet the money does not reflect that position