AniYA, a true advocate for education and equality
DOMINIQUE CARSON | 9/6/2018, 6:10 p.m.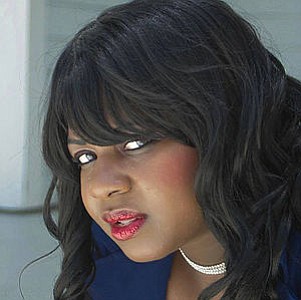 When parents send their children to school, it is supposed to be an enlightening and rewarding experience. Children are receiving instruction from the educator and acquiring a wealth of knowledge.
But, how is that possible when a student doesn't feel safe and wanted in the classroom? When she is constantly bullied and harassed by her peers?
This scenario affects African-Americans, once before including AniYA, also known as Anne Laura Antenor.
AniYA is a motivational speaker, author, business owner and poet who truly values the essence of education.
AniYA discussed her educational journey at the National Action Network Youth Huddle, an organization that encourages individuals to fight for justice and equality. AniYA's parents, Haitian immigrants, moved to South Florida and witnessed how Black people were treated in schools and encountered children's lack of compassion.
Racism was more volatile in Florida and there was no representation. Instead there was the "Stand Your Ground Law." It's a law that allows anyone who feels threatened to use a deadly force. But in this case, it is a license to kill African-Americans without serious consequences.
"I was bullied and my peers said things like 'You came off of a banana boat, you eat cat, you are a Haitian booty scratcher,'" said AniYA. "What was the most troubling was that the teachers did nothing to stop these attacks, and I had to fight in order to make them stop. That day was the most bothersome."
AniYA experienced more abuse from her Caucasian classmates when they called her a "nigger," and she had to stab one of them with a pencil. The administrators at the school didn't take action and ignored the students' behavior. Her physical force was present as a way to protect herself from heartless individuals.
But staff didn't approve of AniYA's approach to protection. They were ready to expel her from school until she mentioned she will invite every media outlet so she can inform them about the injustice in school. AniYA stood for what's right and wanted full control over her schooling.
"I told him that I would have every news reporter on the premises before the day was out because how dare he try to reprimand me and not the student," she said. He, the principal, decided that nothing would happen to me, but what got me the most was that nothing happened to the other student either."
AniYA shared her story to inform others about how all of the adversity she experienced became her introduction to leadership. Her faith in God motivated her to speak about education, empowerment and giving back to diverse communities. Her advocacy began when she was 16 and attending college. She launched programs that would allow people of color to experience a sense of community.
"I quickly graduated from that racist high school in Greenacres, Fla., at the tender age of 16 and entered university, where I would become a leader among my peers," said AniYA. "I led many programs. I worked with staff in order to ensure a safe place where students that looked like me would have opportunities and programs set up so we could feel unity in our little college community."