Boston's Ayanna Pressley heads to Congress in historic win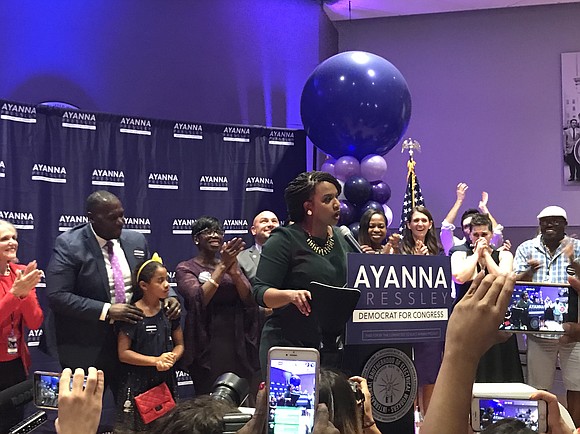 Viral video of Black Boston City Council Member Ayanna Pressley in shock after being elected the Democratic nominee for Massachusetts' 7th Congressional District continues to make its rounds on social media.
Pressley, 44, won the victory this week defeating 10-term Congressman Michael Capuano in the Democratic primary take almost 60 percent of the vote. Pressley does not have a Republican opponent leading her to most likely win in the November general election. She will make history becoming the first African-American to represent Massachusetts in Congress.
"People who feel seen and heard for the first time in their lives, a stakehold in democracy and a promise for our future," she said when she won. "That is the real victory, that is bigger than any electoral victory. And I want to thank you all for being foot soldiers in this movement and for ushering in this change."
The win is another sign of a trend among the Democratic Party that is seeing voters elect candidates who go beyond being simply liberal but also showing more progressive strengths. Another example of the shift is the recent win in New York of Alexandria Ocasio-Cortez, who is a member of Democratic Socialists of America and defeated longtime incumbent Congressman Joe Crowley.
During a visit to the AmNews over the summer, Pressley discussed her path to success. She previously made history as the first Black woman elected to the Boston City Council and said she knows her journey to political office isn't typical. Raised by a single mother in Chicago, Pressley dropped out of college to support her mother who lost her job.
On the congressional campaign trail, Pressley vowed to hat she would fight policies implemented by President Donald Trump she believes are being the country backward. She also spoke out against the NRA, immigration reform and supported women's reproductive rights.
"People often ask me 'before you were elected, who suffered, Black folks or women' and always say everyone," she said. "Government is more stronger and effective when it reflects the citizenry that it serves. Representation matters."
Pressley announced in January that she was running for Congress to challenge Capuano, whose been in office since 2003.
During her time in city council, Pressley worked to eradicate poverty in Boston, which is just over 21 percent in the city. Pressley has also made an effort to eliminate violence in all forms and fight for well-being of women and girls.
"I'm willing to make people uncomfortable in the name of progress," she said. "I know the issues intimately. The issues that many read about are not abstract for me, they're lived. I think for all of those reasons I'm better positioned, better equipped and better qualified to meet the needs of the 7th Congressional District."