Exciting excursions for the newbie adventurer
SHERYL NANCE-NASH | 9/6/2018, 3:51 p.m.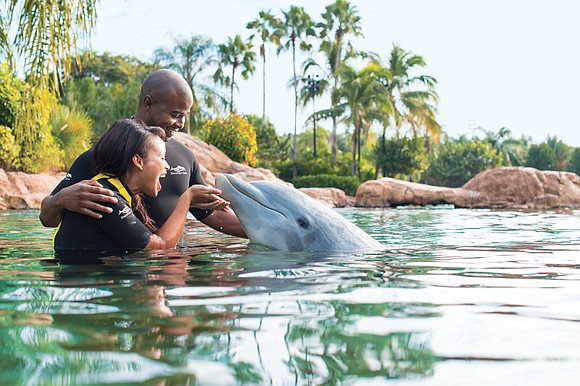 You have your traveling chops. You've been here and there, so now you're ready to get adventurous. You're not exactly the athletic type, and you're a bit gun shy. No worries, there are places for people just like you—beginners. Here's where to find yourself in soft adventures.
Shenandoah Valley Fly Fishing, Winchester, Virginia
For those who want to catch fly fishing fever, a good place to start is Shenandoah Valley Fly Fishing, where newbies are embraced. Fishing guide Galen is a special education teacher by profession and is passionate about helping people learn what he loves. In addition to fishing, Winchester has four new craft breweries, great for chilling after a day on the water. You can find good eating too, at popular Sweet NOLA's, a New Orleans style restaurant with live music, or the Bonnie Blue Southern Market & Bakery, with a locally sourced menu in a funky setting.
Discovery Cove, Orlando, Florida
At Discovery Cove, an all-inclusive park, you can have an animal adventure of the best kind—up close and personal. Take your pick. There are sharks, stingrays, dolphins, marmoset monkeys, tropical fish and more than 250 exotic birds. With a trainer, you and a small group wade into shallow water and have hands-on interactions with the cutest creatures whose eyes sparkle and exude warmth. After you get acquainted, swim to deeper water and get ready for a dorsal fin ride back to shore. This adventure is beginner fun stuff; you can be as young as 6 years old. If you've been afraid to snorkel, but dying to explore underwater life, you can do that with an underwater walking tour. You wear dive helmets, and breath as you normally do. Take in the awesome scenery—colorful fish, gentle rays. You only need be 10 years old. If you're willing to get up early, you can arrange to feed the stingrays during a private tour of the Grand Reef before it opens for the day. For another memorable experience, go for the shark swim. You're guided by the park's aquarist team. You'll snorkel through their habitat. It's exciting, but fine for those at least 10 years old.
Abalone Camp, Little River, California
California's Mendocino Coast is the setting for Abalone Camp, held each year at the end of June at the Little River Inn. If you've been wanting to dive, this adventure is an opportunity for you. Not only will you learn to dive, but also you'll cook your catch and turn it into a treat even the most discriminating foodie will enjoy. No worries, you'll have help cleaning, cutting and pounding your abalone. If you're an experienced diver you can come, too, but the hotel and guides work overtime to get newbies acclimated. No level of fitness is required. What's most needed is a love of the water. The resort also has a golf course, tennis courts, spa, restaurant and is across the street from the beach. You can extend your adventure with hiking and kayaking in the area.