Gallup Poll shows union approval at 15-year high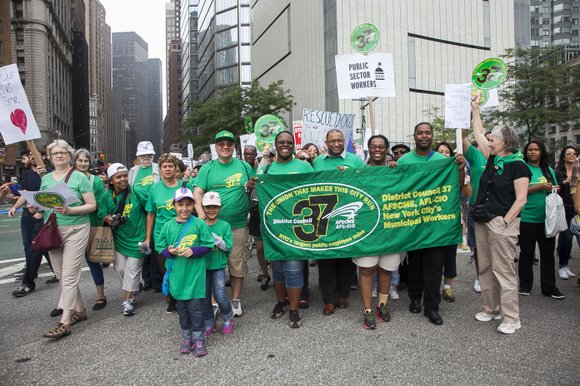 In a poll released before Labor Day, Gallup confirmed that union approval is at its highest in more than a decade.
According to Gallup, 62 percent of Americans approve of labor unions, which is a 1 percent increase from 2017 and up from 56 percent in 2016. Before last year, public support for labor unions hadn't moved past 60 percent since 2003 (65 percent).
Gallup started polling support for organized labor in 1936 (when it polled at 72 percent). The numbers see-sawed between 61 percent and 75 percent from then until the late 1970s when support polled as low as 55 percent.
Since the late 1970s, the percentage of American adults who approve of labor unions has averaged around 58 percent. The only time union support dipped below 50 percent in Gallup's poll occurred in August 2009 when it reached its nadir at 48 percent. Around that time, the nation was dealing with a recession in Barack Obama's first year as president and Democrat-dominated Congress pushed to expand union rights at the same time.
According to Gallup, despite measurement of union membership changing, most numbers point to union support among employed adults belonging to unions rose 9 percent in 1936 to 27 percent in 1945 and picked at 27 percent in 1954. It stayed around 25 percent until the early 1970s where support dipped to the low 20s. Today, union support among employed adults belonging to unions is around 11 percent.
Gallup's poll also showed that majorities in nearly all major U.S. subgroups approve of labor unions except Republicans. Sixty-two percent of U.S. adults overall approve of labor unions. When broken down by gender, 60 percent of men, 64 percent of women approve of labor unions. When broken down by age, 65 percent of people between the ages of 18 and 34, 60 percent of those between the ages of 35 and 54 and the 62 percent of those 55 and older approve of unions. Among Democrats and Independents, 80 percent and 62 percent of those polled approve of labor unions. Only 45 percent of Republicans polled do.
But there's a caveat. While more people approve of organized labor, only 39 percent would like unions to have more influence than they do today. Twenty-six percent wants labor union influence to stay the same and 29 percent want their influence to shrink.
But that didn't stop one union from celebrating their power the week of Labor Day.
The AFL-CIO launched a 60-second ad this week extolling the virtues of organized labor. Airing on CNN, Fox News and MSNBC, the ad highlights the wave of workers organizing across the country and pushed to show that anyone could join the movement.
"We don't fear the attacks against us," stated AFL-CIO President Richard Trumka. "We don't fear right to work. Our power comes from the connection between us. We want fairness, we want dignity. We want everybody to have access to the American Dream."