Homegoing services for Randy Weston, 92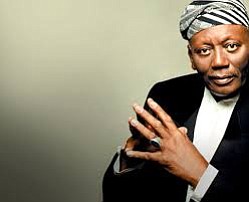 The music world suffered another recent blow with the passing of legendary pianist and composer Randy Weston, who died in his home in Brooklyn Sept. 1. He was 92. Arrangements for Randy Weston's homegoing service are as follows:
The wake will take place Sunday, Sept. 9, at the Frank Bell Funeral Home, located at 536 Sterling Place, Brooklyn, N.Y. Visitation hours are 1 p.m. to 7 p.m., with a wake service from 4 p.m. to 7 p.m.
The homegoing service will take place Monday, Sept. 10, at the Cathedral of St. John the Divine, located at 1047 Amsterdam Ave., New York, N.Y., with a viewing from 3 p.m. to 4 p.m. and a service from 4 p.m. to 7 p.m.