Jazz Notes: Jazzmobile, Harlem Jazz, Sugar Hill, Matana Roberts
Ron Scott | 9/6/2018, 3:40 p.m.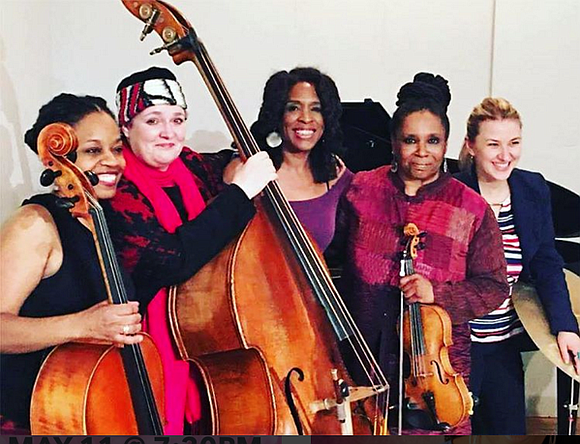 What happened? Summer is over already? Not fair. The winter seems to hang on like a hungry alligator, but the summer sun fads into the wintry night like a Billie Holiday blues song.
Oops, no need for the summer blues quite yet. We can let that blackbird continue chirping its own hip tune. Jazzmobile Summerfest 55 is still on the scene and Sept. 6 swings into Wayanda Park in Queens (7 p.m. to 8:30 p.m.).
Featured will be the native New Yorker drummer/multi-instrumentalist and producer Camille Gainer-Jones, whose street cred reputation includes Nikki D, "Up the Ante for the Pante" (Def-Jam Recordings); FU2, "Boomin in Ya Jeep" (MCA Recordings); "G-Clef Meets Funky Drummer Camille" volumes I and II (Tuff City Records); and jazz stints with Roy Ayers, Roberta Flack, Steve Coleman, Greg Osby, Chuck Mangione and Marc Cary. Playing and producing with such a diverse group of musicians demonstrates that she understands the concept of the hard grove. Give the drummer some.
Sept. 7 the trombonist, composer, conceptualist Craig Harris will take advantage of this rain date. Joining him on this date will be his diversified ensemble, pianist Yoichi Uzeki drummer Ronnie Buragge, vocalist Carla Cook and saxophonist Jay Rodriguez .
When Harris is onstage, be assured there will be a party going on and some other stuff just to keep you in the groove. Whether he's in the European Alps or in Harlem, he keeps the music real. Harlem's Marcus Garvey Park (124th Street and Fifth Avenue), from 7 p.m. to 8:30 p.m.
Sept. 14, Bobby Sanabria Multiverse Big Band performs in Marcus Garvey Park (7 p.m.-8:30 p.m.). There is not enough time or space for me to discuss this drummer, percussionist, arranger, conductor and activist contributions. Let's say, first Google Sanabria, and then make sure you make this gig, or you will miss out on a historical jazz moment.
He was the drummer for the acknowledged creator of Afro-Cuban jazz, Mario Bauzá, touring and recording three CDs with him. His other collaborations include artists such as Dizzy Gillespie, Tito Puente, Mongo Santamaria, Paquito D'Rivera, Candido, The Mills Brothers, Henry Threadgill, Larry Harlow, Celia Cruz and Pedrito Martinez.
Sanabria's 2012 big band recording, inspired by the writings of Mexican author Octavio Paz, entitled "MultiVerse," was nominated for two Grammys.
His latest recording released in July 2018 is a monumental Latin jazz reworking of the entire score of "West Side Story" entitled "West Side Story Reimagined" (Jazzheads), in celebration of the show's recent 60th anniversary (2017) and its composer's, Maestro Leonard Bernstein, centennial (2018). Partial proceeds from the sale of this two-CD set go to the Jazz Foundation of America's Puerto Rico Relief Fund to aid Sanabria's ancestral homeland after the devastation from hurricanes Irma and Maria.
For more information and the lineup, visit visit Jazzmobile.org.
The Harlem Jazz Series is artistically directed by Craig Harris. The trombonist and longtime Harlem resident's goal is to keep the flames of Harlem's live music tradition burning high.
The series takes place at the Greater Calvary Baptist Church (53-55 West 124th St.) every Tuesday afternoon. The first set is noon to 12:45 p.m. and the second set is 1 p.m.to 1:45 p.m. Admission is $15.