Jazz Notes: Jazzmobile, Harlem Jazz, Sugar Hill, Matana Roberts
Ron Scott | 9/6/2018, 3:40 p.m.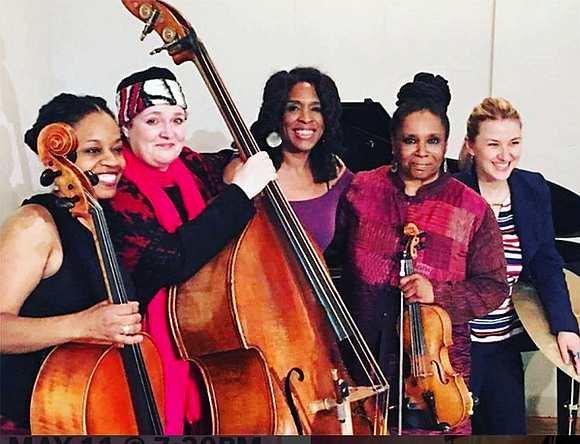 Friday evenings, the first set is 7 p.m. to 7:45 p.m. and the second set is 8 p.m. to 8:45 p.m. Admission is $20.
During Friday evenings, the music, like Harris, will venture across genres as invited musicians from the traditional and improvisational twilight take you on unforeseen journeys of visual, spoken word, theater and dance. These exciting artistic meetups make Friday's Harlem Jazz Series a cultural indulgence with unique experiences for all the senses, meant to uplift mentally and spiritually.
Sept. 7, the multi-instrumentalist Kali. Z. Fasteau will perform. Specializing in spontaneous composition, she performs on nai, kaval and shakuhachi flutes and piano. She also sings. She has studied the music of Asia, Africa and 20th century Europe along with jazz
Sept. 11, the pianist Yoichi Uzeki performs. The Tokyo native has performed with Pharoah Sanders, James Spaulding, Vanessa Rubin and Chanda Rule (from noon to 12:45 p.m.).
For a complete listing, visit the website https://www.harlemjazzboxx.com.
The third annual Sugar Hill Music
Festival, "Strings & Things," jumps off Sept. 8 at the Sugar Hill Luminaries Lawn (155th Street and Edgecombe Avenue) at 3 p.m.
The line-up will include Regina Carter, her violin brilliance of sublime blues, Detroit swing and straight-ahead rhythms will have you moving on the edge of your lawn chair. The pianist Xavier Davis has played with everyone from Betty Carter to Christian McBride Big Band and the Ron Blake Quartet. The way he plays the pearly whites tickles your toes. The Sugar Hill Quartet, with vocalist T.C. the 3rd, is always a winner. T.C. has a unique vocal instrument.
Rounding out the festival will be the Firey String Sistas!, a highly intuitive and energetic ensemble. The ensemble is committed to pushing the limits of string, ensemble playing and improvisation to the next level. Founder and cellist Nioka Workman is joined by violinist Marlene Rice, bassist Melissa Slocum, vocalist/pianist Mala Waldron and percussionist Camille Gainer-Jones. This event has the makings of one of the outstanding festivals of the summer.
Matana Roberts is one of the most emotionally moving alto saxophonists of this century. Recently, she appeared for two days at the Jazz Gallery in Manhattan. The first night she played solo as she usually does. The second night the drummer Gerald Cleaver accompanied her.
They were an improvisational duo listening to each other as if in a real relationship, giving each other a platform on which to be themselves. Her saxophone roared with forceful riffs and his cymbals shattered like lightning. Drums and sax met at the pass, as she flurried on, intoxicating my mind with real thought while his drum rattled my ear canals with melodic beats.
When Roberts plays solo, her tone is rich and bold, with deliberate rhythms that take liberties with your inner being. I feel the notes running through my veins. Then she stops.
"I've been playing this horn for 20 years and still can't play it the way I want," she said, one of the comments she makes during her solo breaks. "I promise not to go on an Omarosa commentary." She laughed.

Some observations are personal, some political, some related to her music experiences. You will not be bored with her music pushing you into her world of colossal music.
She has recorded nine albums as a solo bandleader and four with Greg Tate's Burnt Sugar, plus collaborations and as a guest artist. She formed a trio, Sticks and Stones, with bassist Josh Abrams and drummer Chad Taylor.
Roberts is the composer of "Coin Coin" (Constellation), a multichapter musical work-in-progress exploring themes of history, memory and ancestry that to date includes three CDs, all worth hearing and feeling. See her when you can.