Summer Theater Intensive held at Billie Holiday Theatre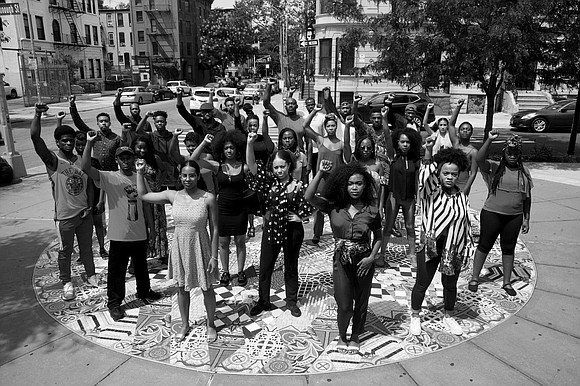 This program's unique focus for Black students to know their roots, brings to mind a line from an August Wilson play: "You got to be right with yourself before you can be right with anybody else."
"We target students from training programs, and working professionals, ranging in age from 22 to 40," Etwaroo remarked. "We welcome actors of all ethnicities but have found a predominance of African-American actors apply and audition. It's clear to us the power of the program depends on this demographic, that is, young actors of African descent whose primary actor training experience has been in Eurocentric institutions. These actors, though skilled and talented are looking for their voices, their roots and a place to call home. We enroll two sections of 16 students each. They come from all over the country and even from overseas. Many of them are currently pursuing MFAs and BFAs at prestigious colleges and universities around the U.S."
Students learned of the auditioning through marketing in Backstage, in American Theatre, on Facebook and at Stella Adler, as well as through the marketing efforts of the Billie Holiday Theatre.
"Students also learn about us through word-of-mouth, and, as the only program of this kind in the nation, word travels fast," said Etwaroo. "Admittance into the BATI is extremely competitive and we do an audition for this program. We look for the most energetic, artistically ambitious actors and also favor artists with a social conscience. Additionally, we've instituted an auditing program to accommodate the significant amount of academic interest in the BATI."
The program has featured many prominent guest lecturers:
Seret Scott, a nationally recognized theater director and the first African-American woman to direct nationally, spoke about her career, particularly her involvement in the Free Southern Theater.
Bill Forchion, a clown and mask expert, spoke about his 30-year career navigating the circus industry as one of the only clown specialists of color.
Jonathan McCrory, artistic director of the National Black Theatre, spoke about heading a nationally recognized Black theater organization, what it means to be a leader and how he makes his creative decisions.
I spoke about my career of having an impact on diversity practices in cultural institutions across the country and the link between the Reconstruction/Jim Crow Era, the Harlem Renaissance and the Black Arts Movement.
Public intellectual and professor, Dr. Michael Eric Dyson, spoke about the role of artists to reflect the times and hold humanity accountable.
Hollis King, an artist with a storied career that includes heading a major advertising firm and creating album art for many prominent artists, including Natalie Cole, spoke about his practices of unlocking his creativity.
Carol Maillard and Louise Robinson of Sweet Honey in the Rock spoke about their careers as actors and musicians. Maillard spoke about her years in the Negro Ensemble Company.
Dr. Sonia Sanchez organized a trip to the Schomburg Center for Research in Black Culture, where we heard from Director Kevin Young, as well as several curators, about the necessity of documenting Black theater traditions and events.