Former GOP chair Steele says he knows identity op-ed writer
Stacy M. Brown | 9/9/2018, 6:55 a.m.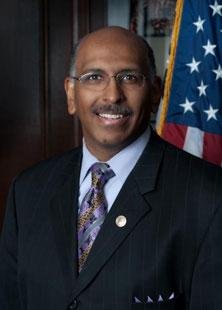 Former Republican Party National Chairman Michael Steele goes on the record with NNPA Newswire and it turns out there are more resisters inside the White House – a high-level group of Republican resisters to President Donald Trump, not a single individual, but a large and still growing group.
In an NNPA Newswire exclusive, Steele said the damning New York Times op-ed by a senior Trump administration official was likely written by a team of the president's trusted hierarchy and it's a clear signal that America is now witnessing a White House in utter chaos.
Steele, who served as party chair from 2009 to 2011, said Trump has devastated the party and has led Republicans to the brink of a midterm that could see a blue wave from sea to shining sea.
"I think the midterms are going to be a correction election. Voters will correct what they see in government not being about the people's business or government that's more caught up in Donald Trump," Steele said.
"The voters may take the House from the Republicans in order to wake them up," he said.
On Friday, Trump said he wants Attorney General Jeff Sessions to investigate and uncover the identity of the senior administration official who penned the anonymous op-ed in The New York Timesthis week.
"Yeah, I would say Jeff should be investigating who the author of this piece was because I really believe it's national security," Trump told reporters Friday aboard Air Force One.
Trump has called the author "gutless" and a "coward" and the White House reportedly has a list of 12 people whom they believe could be the author of the piece which claimed there's a "resistance" within the administration.
Steele said he believes he knows the identity of the author – or, rather he said, authors.
"In many senses, it's a cry for help, an acknowledgment within Trump's White House that, as the saying goes, 'Houston, we have a problem,'" Steele said.
However, unlike so many others who believe it's the work of one senior official, Steele said he thinks more than one staffer is behind the damning article.
"It's my take that this isn't the hand of or the handprint of one individual," he said. "I've read that and I can hear a lot of different voices that I know personally."
He compared the matter to a group of employees all of whom are upset with the boss.
"No individual will want to go to the boss or go public, so they sit there talking and they write a letter together and give it to one person to take it – in this case to the press," Steele said.
"That letter reflects the views and concerns of many individuals inside the White House."
As to why he wouldn't reveal the identities, Steele likened it to journalists who maintain anonymous sources. "You have contacts and I have contacts," Steele said.
"My contacts tell me a lot of things that was inspired in the books by Michael Wolf, Omarosa Manigult Newman and Bob Woodward," he said of the authors of recent books that paint the president as unhinged and out of control.