Macy's, a special addition to the 2018 Essence Street Style party
DOMINIQUE M. CARSON | 9/13/2018, 11:27 a.m.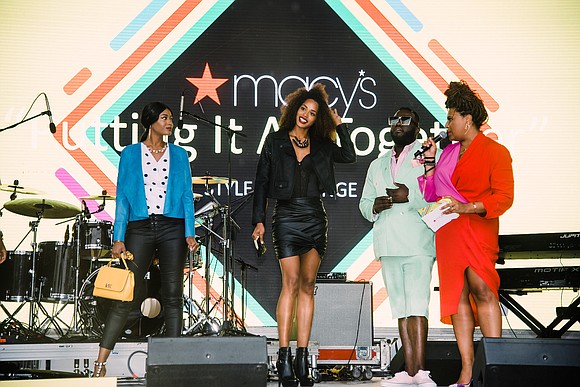 Despite raindrops falling from the clouds, Brooklyn natives and guests joined the 2018 Essence Street Style party in Brooklyn. Light rain showers took place but folks still wanted to party and celebrate style and Black culture.
Essence Street Style was hosted by actress and comedienne Amanda Seales, who made the party more spectacular. The seven-hour event took place at the Duggal Greenhouse, with many people waiting in the rain before and during the festivities.
 R&B superstar and chef, Kelis, and YouTube megastar, Kellie Brown, were honored. DJs Jasmine Solano and Olivia Dope were on the 1s and 2s. There were also live performances from R&B crooner Teyana Taylor and the Queen of Afrobeat, Yemi Alade. Fans tuned in with actors Trevor Jackson and Mack Wilds on a segment entitled, "What Men Really Want." 
Along with live performances and celebrity guests, there were several sponsors that supported Essence Street Style, including Macy's.  Macy's hosted the Putting It All Together Style Challenge to create a curated mix of fashion trends. 
During the Essence Street Style party, Macy's promoted their latest project, My Stylist @ Macy's. A stylist creates according to an individual's pattern and/or personality. Macy's follows the same concept with the free service, My Stylist. They're inviting people to see what My Stylist is all about when they enter the store. 
Kristyn Page, vice president of Diversity and Inclusion Strategies, expressed her level of appreciation for participating in this year's Essence Street Style. She was so excited because it was the company's first time joining Essence at this type of event.  She said more than 200 women visited the booth to learn more about My Stylist program.
"So far, everyone has enjoyed the booth and the beauty boxes," said Page. "People have also been talking about My Stylist, which is fantastic. We created these little cards so we can get people's contact information, size and style preference. We have three to four adjectives that ladies can select from the sheet to get a better understanding of their own personal style. Then, they can say I'm looking for help in business or casual attire. The My Stylist will help them create a look that's best for them or take your style to the next level."
Macy's also had a star photo booth, where individuals can select a star with wording that depicts their personality or image. The adjectives were taken from the My Stylist form. The person holds the star, and then takes a picture for Macy's. Macy's ultimate goal is to encourage folks to figure out who they are, connect with their style and find their niche.
"We want people to ask themselves, 'Who are you?'" said Kizzie Tunson, Macy's vice president store manager. "Let the customer figure out who they want to be, whether it's before or after meeting with the stylist. The stylist is helping them figure who they are and asking them 'What do [you] like to do?' or 'What do [you] like to wear?' Things like that."
Macy's My Stylist enhanced the customer service experience because they're taking the time to help women when they go shopping. Many women don't have the time to go shopping because of their hectic schedules, or they just don't have the patience. However, Macy's created a program where women can look and feel good.