Randy Weston, jazz griot, dies at 92
Ron | 9/13/2018, 3:03 p.m.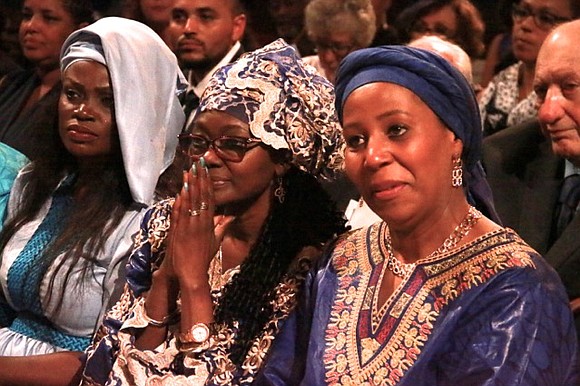 The smile on his face gave me a sign he had already left that empowered 6-foot-7 frame and was now our celestial being, who illuminated the room so brightly as the ancestors welcomed him home. As he took his seat next to his parents, Vivian and Frank Weston, they watched from above as we mere mortals gave praises to the great man, who had given us so much.
Yes, I can say the Rev. Dr. Herbert Daughtry, New York State Assemblyman Charles Barron and his wife, Danny Glover, Viola Plummer, Gail Boyd (Randy's longtime attorney) and Bertha Hope spoke and although their experiences were different, the words and praises were one. Afterward, as we went our separate ways, we realized those nouns such as friends, fans and even family all meant one thing: We were all Randy Weston's grateful students.
The following day (Monday) the rains continued as more than 1,000 people filled the Cathedral of St. John the Divine for the homegoing service for Randolph Edward Weston.
The huge castle-like church was filled to capacity as the family walked in under the echo of African drums that rattled your soul to the core, making you want to shout, "Randy I'm here." The mighty drums played on louder and louder in praise and awe of this great human being now gone. The mighty drums were the same ones that were banned during slavery.
The mighty drums played as people stood silent, as some clapped and some whispered stories of Randy. Some took photos as the drums roared on. The same ones that were banned in Marcus Garvey Park some years ago—something to do with gentrification. And the drums played on for a giant of a man who stood for the things he knew were right.
This big day was the "homegoing." No more seeing Randy, not even in his human shell that smiles. At this moment, the ancestors were giving him his crown for work well done. Don't you see it sparkling? Don't you see the glow? Look up toward the cathedral's vast ceiling. That has to be his crown sparkling because it's dark outside.
Shhhh! The many speakers have begun. They came from as far as Senegal, France and Switzerland. Weston's longtime friends and collaborators, Willard Jenkins and Robin Kelley, were the hosts. Speakers included Maurice Montoya (Randy's booking agent for many years), Wendy Oxenhorn, executive director and vice chair of the Jazz Foundation of America, Jean Phillipe Allard, this writer, Wayne Chandler, actor Delroy Lindo, Professor YaaLengi Ngami and Acklin Lynch.
Randy's longtime band, African Rhythms, performed his composition "Hi-Fly" with saxophonist/flutist T.K. Blue, bassist Alex Blake, percussionist Neal Clarke, trombonist Robert Trowers and saxophonist Billy Harper with special guest pianist Monty Alexander, Cecil Bridgewater and Louis Hayes. The great percussionist Candido also joined the stage, with performances by Minh Xiao on pipa and Malaam Hassan Jaffar on guimbri. What a homegoing. By now he has reached home and is settling in with the ancestors, speaking of what should and can be down here among us mortals.