Randy Weston, jazz griot, dies at 92
Ron | 9/13/2018, 3:03 p.m.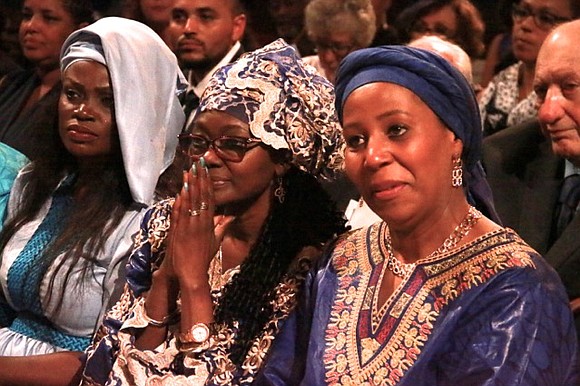 What of his music? Well, let's see. The bible has its holy scriptures, the Quran is the central religious text of Islam and the "African Cookbook" represents Randy Weston's kaleidoscope of music. Granted "African Cookbook" is the title of his 1969 album for Polydor, but it is most apropos for his recordings from 1960 to 2018. It a guide for us to listen and follow from "African Nubian Suite" (2-CD set), "The Storyteller," "The Spirits of Our Ancestors," "Blues to Africa," "The Healers," "Nuit Africa" and "Uhuru Afrika" to "Sounds: Solo Piano." In his seven decades, he has recorded more than 70 albums.
My thoughts on visiting Randy—It was more than a mere house visit. It was a short journey to Mecca, a shrine in the midst of Brooklyn's Clinton-hill section, where family, scholars, musicians and friends from around the world visited.
His residence was The International Cultural University of Randy Weston. On my visits, I always had my notebook and pen—No telling where his journey of words would take us.
Taking notes wasn't a good idea. When you are in the presence of a master, paying close attention is key—watching his mannerisms and that big smile kept you engrossed.
Our conversations covered what most college courses missed: Ancient world history (the ancient empires of Africa), African history and African-American history. He discussed these topics not only in his home but also during his many performances around the world, from Bill's Place to Sistas' Place to Paris, Senegal and Japan.
He discussed ancestors, such as the Black queen Candace, Empress of Ethiopia (332 B.C.), one of the greatest generals of the ancient world, and Duke Ellington, Max Roach, Jimmy Rushing, Melba Liston, Thelonious Monk and Candido. His tenor voice flowed like the waters of the Euphrates River.
He was like Dr. Ben. He laid his facts out, sharing the ancestors' contributions to the world before the birth of Christ, the purposely lost facts that were deliberately left out of the history books. "The strong truth comes from our ancestors," Randy said. "This isn't about me. It's about the ancestors."
When I left his universal brownstone, I felt invigorated. I held my head a little higher and straightened my gait, and like my mentor, I was showing off a big smile. This anointed griot had equipped me with a spiritual knowledge of African culture and moved me with his music.
And like any good professor, he gave me materials to ponder from books to DVDs or CDs. Listen to the double CD-set "African Nubian Suite." "It's all in there," he said to me as I left a few weeks ago.
That was the magical power of Randy Weston. His conversations were always a learning experience. After leaving his presence we were inspired to do more, to strive to a higher state of being.
And now we have to dig a little deeper, because he has joined the ancestors who he loved and respected so much. We might not be able to touch him or physically see him, but he lives in our souls and African rhythms dance in our veins like the Niger mambo.
To keep his flame burning, we must take up his tradition of sharing the history of our ancestors, from the ancient empires of Africa to its musical roots of this music we call jazz.
Randy said, "It's not about me, it's about the ancestors. It's about the music, not me." Well, now he is an ancestor and it is about him.
Randy Weston, we will love you as long as the African winds whisper your name, and that is for eternity.
Weston's son Azzedin predeceased him. He is survived by his wife, Fatoumata Mbengue-Weston; three daughters, Cheryl Weston-Farella, Pamela Weston, and Kim Weston-Moran; seven grandchildren; six great-grandchildren; and one great-great-grandchild.