Touro College of Osteopathic Medicine breaks record with 'underrepresented minorities'
amnews | 9/13/2018, 3:14 p.m.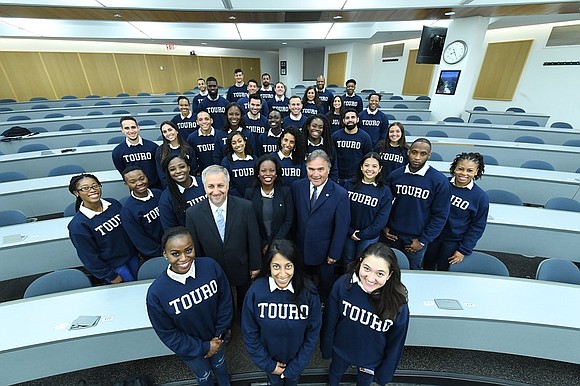 Touro College of Osteopathic Medicine announced that in this new semester they welcomed the Class of 2022 with a record-breaking number of "underrepresented minorities." Of the 135 students in the class, 37—more than 27 percent of the class—are URMs.
The influx marks three highly successful recruitment years in a row, where the numbers keep climbing. The rise is part of an upward trend with a 55 percent increase overall in applications to TouroCOM since the 2015-16 application year. The Harlem campus interviewed 550 applicants, including 92 URM students, a 206 percent increase in URM candidates interviewed over last year.
"As our reputation grows we are getting higher numbers of qualified applicants who desire to come here," said David Forstein, DO, dean of the Harlem campus, who said the figures put the school near the top of URM recruitment into medicine. "We are extremely proud and excited to welcome this very talented pool of students who have chosen TouroCOM, which celebrates diversity and is committed to correcting diversity disparities in our health care delivery system."
Dr. Alan Kadish, president of Touro College and University System, added, "A cornerstone of TouroCOM's mission is to increase the number of underrepresented minorities in medicine, and to service underserved communities. Every year we welcome the call to build a diverse student body that will reflect the populations we serve and strive to improve the health outcomes of the communities in which they work."
The incoming cohort is comprised of 20 women and 17 men. It includes 19 Black students (six males, 13 females); 16 Hispanic students (10 males, six females); and two Native-Americans (one male, one female). The students hail from all over the country, with most from the northeast.
First-year Samantha Okundia, a Nigerian-American student from Dallas, Texas, said admission to the DO program is a "testament to perseverance." Okundia explained she took the 'scenic route' to TouroCOM, first completing a master's in medical physiology at Case Western Reserve and then teaching elementary school in Washington, D.C.'s inner city for three years before applying.
"I am grateful for all the personal and professional growth I made along the way because it prepared me for success at this stage. I'm excited for the opportunity to continue growing here at Touro, and to making a contribution to the world though osteopathic medicine," said Okundia.
According to a report last year by the health-oriented news website STAT News, blacks make up 12 percent of doctors and Hispanics and Native Americans are even more underrepresented, having negative public health implications because research shows that underrepresented minorities are more likely to follow medical recommendations of doctors who look like them. In addition, diversity among doctors improves care for traditionally underserved populations.

TouroCOM, which recently celebrated its 11th anniversary and its success in training minority doctors, has graduated 996 DOs since its inception, 138 of whom are URMs. Approximately half of its graduates who have gone on to residencies have ended up in the much-needed primary care specialties of family medicine, internal medicine, OB/GYN and pediatrics. Additionally, as of 2017, close to 30 percent undertook residencies in underserved communities or primary care shortage areas.