Touro College of Osteopathic Medicine breaks record with 'underrepresented minorities'
amnews | 9/13/2018, 3:14 p.m.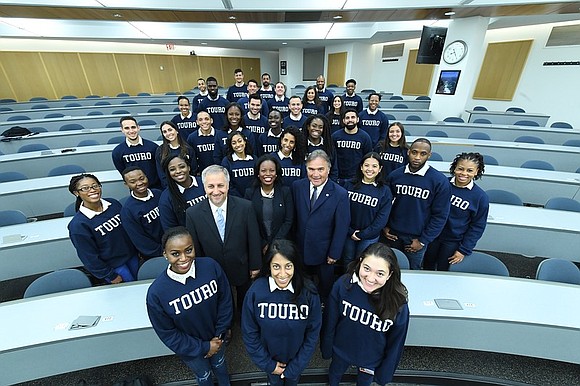 The school's achievements in attracting underrepresented minorities exceeds the average of osteopathic medical schools nationally from 2009 to 2017, according to data from American Association of Colleges of Osteopathic Medicine (AACOM). During this period, TouroCOM enrolled nearly twice the number of URMs admitted to osteopathic medical schools, an average 13.98 percent, compared with the national average of 7.86 percent.
TouroCOM tackles its mission through several avenues. A significant path is a one-year master's program that prepares students for the rigors of medical school. Of the 138 URMs who have graduated from the DO program, 98 entered the medical school from the Master of Science in Interdisciplinary Studies in Biological and Physical Sciences program. Master's students who score in the top ten percent of the class are eligible to join the next year's DO class. The DO Class of 2022 includes 21 URMs entering from the master's program, another record high.
Other factors fundamental to the school's success in meeting its mission are the support of the TouroCOM-Harlem Community Advisory Board (CAB), which has provided guidance and liaised with the Harlem community to help the school. Among the CAB's key accomplishments are the establishment of a scholarship fund. Twenty-three students have received scholarships from the fund and other sources.
"TouroCOM has lived up to its mission and goals for our community and made sure that it includes students from every race and especially those from the minority communities," said Dr. Hazel Dukes, president of the NAACP New York State Conference, and a founder of the Board. "They continue to engage the community through participation in the Greater Harlem Community Chamber of Commerce health programs and the TouroCOM Annual Health Fair."
TouroCOM also mentors and conducts outreach with minority students from local high schools to instill in them an interest in math and science and to encourage them to pursue and prepare for careers in the health sciences. For its diversity efforts, the school received the Health Professions Higher Education Excellence in Diversity (HEED) Award from Insight into Diversity magazine, and the "Spirit of the Heart" Award from the Association of Black Cardiologists, and the NAACP Mid-Manhattan Community Service Award for increasing the number of underrepresented