Weekly protest in Newark honors Colin Kaepernick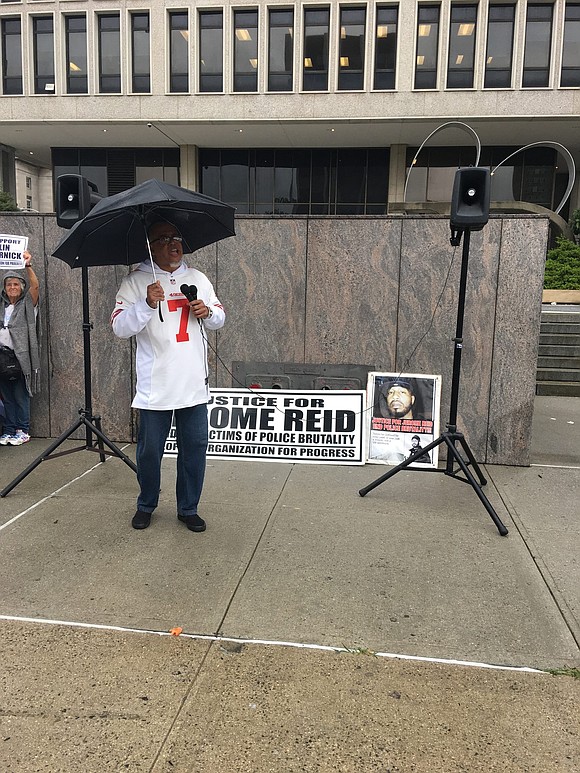 Social justice organization the People's Organization for Progress honored Colin Kaepernick during their weekly Justice Monday rally against police brutality in Newark.
For more than 130 consecutive Mondays since February 2016, P.O.P has been rallying to spotlight New Jersey's underreported police brutality cases of Abdul Kamal killed in Irvington in 2013, Kashad Ashford killed in September 2014, Jerome Reid killed in Bridgeton in 2014 and Radazz Hearns, a Trenton teenager who miraculously survived being shot in the back seven times by Trenton and state police, also in 2014.
This week's rally paid homage to Kaepernick, the quarterback who took the San Francisco 49ers to the Super Bowl in 2012 and sparked a national controversy when he decided to take a knee to condemn police brutality during the salute of the national anthem over the 2016 season. His contract with San Francisco expired at season's end. No team would sign him for the 2017 season.
Kaepernick was recently named as the face of Nike's 30th anniversary ad campaign for its "Just Do It" slogan. Reaction was mixed with fans praising the company while critics protested Nike, even posting videos of themselves burning and destroying the company's products.
Poet and activist Zayid Muhammad donned his No. 7 Colin Kaepernick jersey at the Justice Monday rally in solidarity with Kaepernick over his silent protest against police brutality.
"That young man is sparking an interest among a cross section of young people to get involved in the struggle for justice like no one has in recent years," Muhammad said. "The way he has held the line on his stand even though he has clearly been whitelisted by NFL owners, and the grace and generosity he has exhibited over the course of his ordeal, is even more becoming."
Muhammad is currently the organizer for Newark Communities for Accountable Policing, an ACLU local initiative that seeks to garner community support in the fight for meaningful Civilian Oversight of the Newark Police Department.
Mayor Ras Baraka and the Newark City Council created the city's Civilian Complaint Review Board in 2016 only to have a state judge recently rule against its authority in a lawsuit brought by the Fraternal Order of Police. The City of Newark is appealing the order.