Harlem Harvest Festival 2018
KYSHA HARRIS AmNewsFOOD Editor, @SCHOPgirl | 9/20/2018, 3:39 p.m.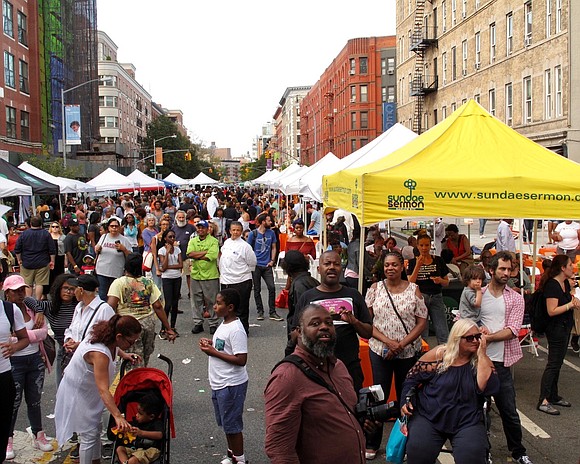 One of Harlem's most anticipated events returns Saturday, Oct. 6, for its ninth year. Harlem Park to Park's Harlem Harvest Festival celebrates the harvest season with an impressive sampling of some of Harlem's top local vendors.
What began as a means of bringing artisanal products not easily found in the neighborhood to a family friendly and accessible atmosphere has evolved into the premier platform for Harlem's rapidly growing vendor community. It is here where they showcase their goods and services to Harlem, New Yorkers
and beyond.
Credited in large part to Harlem Park to Park's Harlem Local Vendor Program, an accelerator program in partnership with several community stakeholders, Harlem has experienced a growth of new artisanal products that is quickly making the neighborhood an important and significant entrepreneurial hub.
"Initially, most of our artisanal vendors were not from the community, but from upstate. To see the event reach a point where the festival is now completely made up of locally Harlem produced products is an amazing community accomplishment that we are all so proud to share with our neighbors and visitors," said Harlem Park to Park Executive Director Nikoa Evans-Hendricks.
There will be food and lifestyle products for sale and the interactive kids zone complete with face painting, cooking demos, pumpkin decorating station and live entertainment throughout the day. Again, local bakers are invited to enter the Harvest Bake Off, with prizes for best cake, pie, cookie and brownie helping to launch local brands. Also, new vendors will have a unique opportunity to meet with buyers during the festival.
For more information, visit www.harlemparktopark.org.