Political Musical Chairs
City Council Member Jumaane Williams talks about what's next for him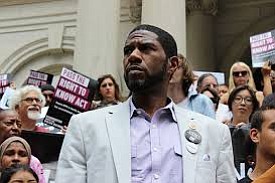 Be careful what you ask for!
"We did the damn thing!" declared New York City Council Member Jumaane D. Williams (D-Brooklyn). "We shook up the world!"
He wanted to be lieutenant governor and ran a race tighter than expected against incumbent Kathy Hochul.
In a 733,591 to 641,631—53.3 percent to 46.7 percent—election night outcome, Williams, called a "rock star" by some in the media, is facing the political conundrum of "now what?" Some have already placed him in the middle of a multicandidate race for public advocate, because fellow Democrat/Working Families Party candidate, current Public Advocate Letitia James, beat out her competitors in the Democratic primary for attorney general (recently vacated by scandal-riddled Eric Schneiderman).
Public Advocate Williams? "Are you going to run for the job?" the Amsterdam News asked.
He replied, "That option was not in my mind. I had prepared to either win the election or lose the election. I didn't prepare to win/lose, which is apparently what happened that night. I didn't prepare for the numbers to look so great that this option would even be there."
Other names mentioned include Brooklyn Borough President Eric Adams, Bronx Assemblyman Michael Blake, City Council members Ydanis Rodriguez and Ritchie Torres, former City Council speakers Christine Quinn and Melissa Mark-Viverto and Minister Kirsten John Foy, the National Action Network's Northeast regional director.
"We are in the midst of conversations," Borough President Eric Adams told the Amsterdam News when asked if he was thinking about what might amount to a crowded field of eager candidates.
Foy said, "Haven't made the decision just yet. But I will either run or set the agenda and vision for the office from the community."
Should James win and become the attorney general Jan. 1, 2019, vacating her position of public advocate, what would amount to a battle of interesting New York personalities would require a special election. It would probablytake place in March 2019.
In this brand-new era of Alexandria Ocasio-Cortez democratic socialist-style upheaval, anything is possible. Can the revolution indeed be televised?
Although the city sat up and took notice as Gov. Andrew Cuomo soundly defeated his challenger, actress Cynthia Nixon, other tremors were felt as six Independent Democratic Conference incumbents lost their shirts and seats to newcomers. Alessandra Biaggi, John Liu, Jessica Ramos, Zellnor Myrie, Robert Jackson and Rachel May stunned the incumbents: Queens Senators Jeffrey D. Klein, Tony Avella and Jose Peralta; Brooklyn Senator Jesse Hamilton; Manhattan Senator Marisol Alcántara; and Senator David Valesky in Syracuse.
Only two of the eight members kept their seats Thursday, Sept. 13, election night.
After he thanked the Amsterdam News for endorsing him, Williams said, "We took on the New York political machine while running on pure activist energy and small-dollar contributions. We saw 640,000 New Yorkers come to the polls and vote for our shared vision for bringing an advocate for the people into Albany. Progressive, activist energy is at an all-time high. We reshaped the political landscape in New York. We decimated the IDC, and our new true blue senators will bring real change to Albany. Andrew Cuomo has nowhere left to hide. Everyone is watching him."