Political Musical Chairs
City Council Member Jumaane Williams talks about what's next for him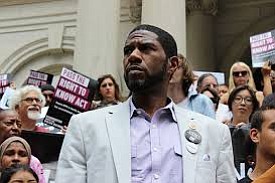 Born in the Brooklyn and of Grenadian descent, New York City Council Member Williams has represented Brooklyn's 45th District (including East Flatbush, Flatbush, Flatlands, Marine Park and Midwood) since 2010. A founding member of the Progressive Caucus, he is also deputy leader in the City Council, chair of the Committee on Housing and Buildings and co-chair of the Council's Task Force to Combat Gun Violence, and he is a member of the Black, Latino and Asian Caucus.
"We shattered turnout records and expectations and we won New York City by more than all mayoral candidates combined in the 2013 elections," Williams said just after his almost lieutenant governor win.
"We also received more votes than any person of more color ever in a statewide primary. And we very nearly won!"
Although he won downstate, Williams did not fare so well in the upstate regions. His results showed the great divide between the two areas.
"The results were amazing, kind of awe-inspiring," Williams told the Amsterdam News Tuesday, in his first media interview. "We got the boroughs we wanted to get. We won New York City. It was impressive. We were looking heavily at Brooklyn, Manhattan and Queens."
He did not carry Queens.
"We went against the Cuomo machine," he said. "We went up against every county. We went up against almost every elected official. I am proud of what we accomplished."
Will he still continue to run for lieutenant governor on the Working Families Party line?
"Those conversations are still happening, [compounded with] making sure that the Working Family Party still very much exists," he said. "It is critically important. So, I think it is important that they are there as a check. And we have to make sure that we don't assist in helping the Republicans."
Reflecting on his own record, Williams said, "My career goal was to cause as much good trouble as possible, and make transformational change. I think in the past decade we've got some good things done. I am proud of that. We've had some leading voices in some critical times."
Although some question Williams' record, saying he has "flip-flopped" on some major issues, successes he claims include tackling police brutality and supporting the Cure Violence initiatives.
"I am most proud of what we have done with gun violence and the whole discussion that is changing the framework of what public safety is, and getting the funding to some of the community groups on the ground and looking at it as a whole public health approach, and cure violence as the model," he said. "Of course what we did with policing is good for me as well, and my voice in the affordable housing crisis. And also the summer youth program."
Asked if he really thinks that police and community relations have improved that much at all, he said, "I believe that there have been some dramatic changes from the last administration to this one. At the same two buckets which need significant attention and have not changed—and have some gone backward—are accountability and transparency. So that is my hope that it is time to get as much transformational change in those two buckets, as we have in other areas."