Talking SCHOP! Westchester Food Truck Mash-Up
KYSHA HARRIS AmNewsFOOD Editor, @SCHOPgirl | 9/20/2018, 4:09 p.m.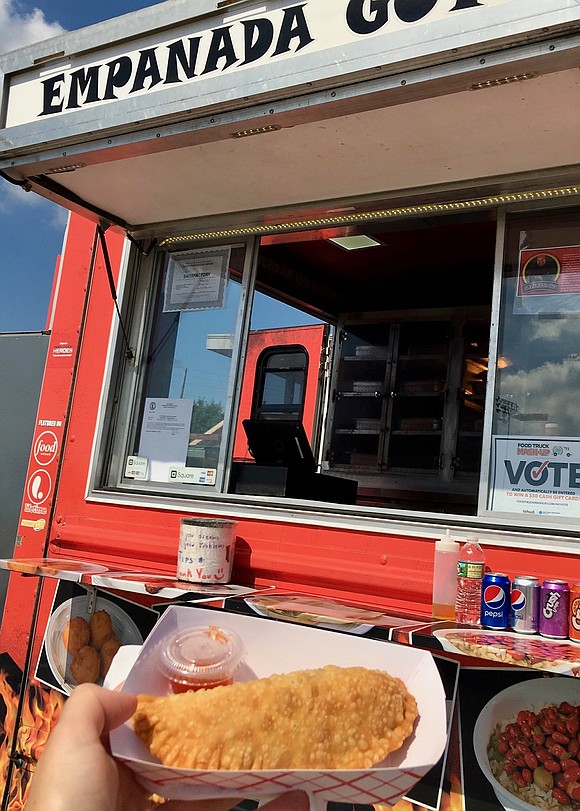 It was a hot, hot but beautiful Sunday and I only had coffee in preparation to attend the second annual Westchester Food Truck Mash-Up at Empire City Casino: Battle New York vs New Jersey. Thank goodness for the early admission lest I would still be there passed out from heat stroke in the middle of a racetrack.
Together with my food crew, Jason and Jamie (and Angus Bear in the backpack), we headed up to Yonkers. We could see all the trucks lined up along Yonkers Raceway track on the approach from the highway. The discussion of how we would attack was already underway.
Our quick early entry was right on time to command some space in the coveted shade of the marquee sign. Jason was first up to bat with some awesome grilled corn on a stick with tons of seasoning. That would have to get got.
My first bite and use of my $5 coupon would be a bit of a letdown from Jerkin Chicken. Was thinking their jerk tacos would be something special, but it was more about overdressed salad than the protein. Should have stuck with their straightforward food.
Thanks to Jamie's @EmpanadaGuy1 beef empanada and Jason's @SouvlakiTrucks spicy fried Brussels sprouts with feta for getting me back on a path to food greatness. That empanada was on point, filling moist and well-seasoned and fried perfectly. The Brussels sprouts were so good, Jamie went back to get her own.
We continued our time in turns so someone would hold down the shade front and be with Angus. Jason returned from his turn still contemplating his next bite but with hand-cut, still hot truffle parmesan fries from the truck that would ultimately be voted by guests as the best of the day, @JimmyDawns. These fries were hearty, not greasy and a perfect blend of truffle oil to salt to parmesan. Turns out it was only the tip of the iceberg of this husband and wife team. I am coming for the cheesesteaks next time!
As the doors opened to general admission at 2 p.m., the lines got markedly longer as well as wait times. So, after a final perusal of the trucks (shoutout to @HapaFoodTruck! I see you. Menu was dope!) and a refreshing as-all-get-out draft beer, the crew packed it up and headed out.
Congrats to the team on a successful second year! Looking forward to the next…
Happy eating and thanks for reading!
Kysha Harris is a food writer and editor, culinary producer, consultant and owner of SCHOP!, a personalized food service in NYC for more than 15 years. Follow her on Twitter and Instagram, @SCHOPgirl, on Facebook, /SCHOPnyc, and her blog, www.talkingSCHOP.wordpress.com. Questions? Comments? Requests? Feedback? Invitations! Email AmNewsFOOD at AmNewsFOOD@SCHOPnyc.com. Follow us on Instagram, Twitter and Facebook @NYAmNewsFOOD and tag us with #SoAmNewsFOOD with your food finds!