Arthur Mitchell: The man and his legacy
Zita Allen | 9/27/2018, 10:08 a.m.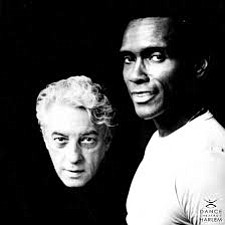 Arthur Mitchell, the internationally recognized dancer, artistic director, choreographer, educator and visionary, who made history in 1956 as the first Black member of the New York City Ballet and in 1969 as founder of the groundbreaking Dance Theatre of Harlem, died Wednesday, Sept. 19, after a long illness. He was 84 years old.
The standard obituary would offer a litany of accomplishments by this son of Harlem, who was born March 27, 1934, one of five children of Willie Mae Hearns Mitchell and her husband, a building superintendent, Arthur Adam Mitchell. It would identify such milestones as his admission to the High School of Performing Arts, his work with a few modern companies and the Broadway show "House of Flowers," alongside Alvin Ailey and Carmen de Lavallade. It would highlight NYCB's Lincoln Kirstein's offer of a full scholarship to the School of American Ballet. And, of course, it would highlight the turning point—a 1955 invite from Kirsten and George Balanchine to join NYCB and the promotion, a year later, to principal. The standard obit would also note highlights of his historic 15-year career, including the debut in Balanchine's "Western Symphony" and signature performances in "Agon," "A Midsummer Night's Dream" and "Slaughter on Tenth Avenue." And, of course, it would cite the numerous awards, including a Dance Magazine Award (1975), a Kennedy Center Honor (1993) and more. But, as a former DTH dancer said, if you must measure this man's life, measure it in terms of lives touched.
Mitchell's career unfolded against the turbulent backdrop of America's civil rights era. He once recalled that some NYCB parents didn't want a Black man partnering their daughters. Balanchine told them they could always leave. Even, during his debut, a stunned member of the audience exclaimed loudly, "Oh, my God! They have a nigger in the company!" The man was silenced. Mitchell didn't skip a beat. The show went on. As late as 1965, some television stations refused to broadcast Mitchell partnering white Diana Adams in the "Agon" pas de deux when, in fact, the contrast of their skin tones was intentional.
Mitchell was disgusted that "a prejudiced minority has dictatorial power over what all Americans are allowed to see." Yet, he persisted and his career soared. Critics praised and audiences applauded what one New York Times critic described as his "dazzling presence, superlative artistry and powerful sense of self." But, as Mitchell once explained, inherent in his performances was a sense of mission. "Whenever I danced, I danced for my mom, my family and my people," he said.
In 1969, a year after Dr. Martin Luther King Jr. was assassinated, Mitchell's sense of mission prompted him to found Dance Theatre of Harlem, the school and Black ballet company, with the help of teacher/mentor Karel Shook. Inspired by Mitchell's faith in the transformative power of art, DTH was a product of the social, political and cultural forces of the civil rights era, and as a change-agent it continues to have a profound impact.
Even before its official 1971 debut at the Guggenheim Museum, DTH dazzled audiences at open houses, lecture-demos and such. Choosing works that complimented the company's evolving technical facility, Mitchell made sure that as the dancers' artistry developed, the repertory showcased their talent. With ballets by Balanchine, Jerome Robbins, John Taras, Geoffrey Holder, Louis Johnson, Alvin Ailey, Talley Beatty, Lester Horton and himself, among others, Mitchell said he was choosing works that "have a standard of performance that DTH has to equal and surpass."