Community calls for end to violence as another teen murder rocks the city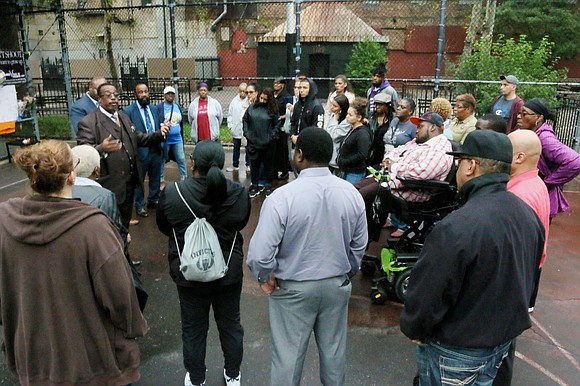 "Who killed my son?" asked David Oyebola, the father Oluwadurotimi Joseph Oyebola, the 16-year-old killed by a stray bullet Friday afternoon in the Chester Playground (next to Public School 396), in Brownsville, Brooklyn. "I want justice. And I don't anyone else to go through this in America."
Oyebola's friends were beside themselves trying to save his friend. He was just playing basketball when two assailants walked into the busy, sunny playground and shot into the crowd.
"We need to come together to stop this violence," said David Oyebola as he sat in his home grieving the sudden death—the murder of his youngest child. "We need to make sure this does not happen to any other family in America."
The Oyebolas lived in Jamaica, Queens, but 11th-grader Oluwadurotimi Oyebola went to Ascend High School in Brownsville.
"Gun violence has become a plague in Brownsville," Assemblywoman Latrice Walker told the Amsterdam News. "We cannot allow this to become the norm for our families. Gun violence has become a plague in Brownsville. We cannot allow this to become the norm for our families. No parent should have to bury their own child. It takes a village and we as a community have to come together to find real solutions to gun violence."
David Oyebola, a minister at Brooklyn's Abundant Life Christian Center said that he moved his family to New York from Lagos, Nigeria, in 2013. "I brought he and his sister here for the American dream. I can't believe he was randomly shot. He was so bright. He loved to play basketball. He followed Chris Paul of the Houston Rockets. This is so hard. We are taking it day by day."
Police say that Oyebola apparently caught a stray bullet.
Dominic Pabon, a 23-year-old former Marine, rushed frantically to the side of Oyebola, who lay on the ground dying from a gunshot wound to his temple.
"I live over there on the sixth floor," said Pabon. "I heard the shots. I heard kids screaming, 'Help! Call 911!' so I ran downstairs as fast as I could. I took off my tank top. That's the only piece of fabric that I had. I looked at the kid. I saw the wound where the blood was leaking out of. So I put my tank top there and put as much pressure as I could. With the kid next to me, I told him to help push down on it to help stabilize the wound to help to slow down the bleeding, because it was so excessive. The kid was losing so much blood. He was trying to speak, and I was yelling, 'Timi talk to me, breathe!'"
Pabon did not know the popular young boy nicked named Timi, but he wanted to save the boy's life as he was trying to talk while blood seeped from the wound on his upper left eyebrow.
David Oyebola said that he would like to meet with Pabon to thank him for trying to save his son's life. Phone numbers were exchanged.