Community mourns loss of Ruth Clark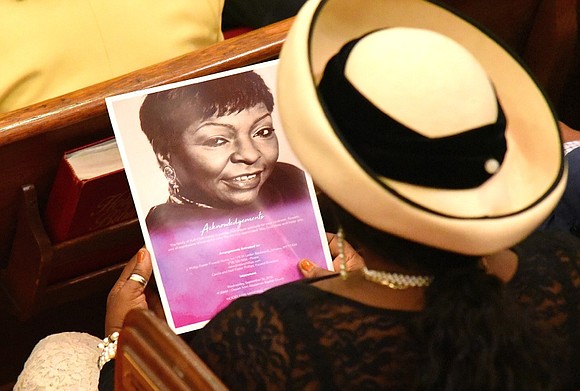 She was an anchor in the community and an icon. Tuesday, the community said goodbye and sent her home.
Ruth Clark, philanthropist, leader, entrepreneur and businesswoman, died Sept. 14. Tuesday, family, friends and dignitaries gathered at the Abyssinian Baptist Church to honor her legacy. Among those in attendance were former Congressman Charles Rangel, former New York City Mayor David Dinkins, NAACP New York State Conference President Hazel Dukes and Keisha Sutton, granddaughter of the late Percy Sutton, one of the Tuskegee Airmen.
Clark founded Clark Unlimited Personnel in 1974 and she was the founding president of the nonprofit Support Network that helped fund support services for young people. In a statement, National Action Network President the Rev. Al Sharpton referred to Clark as a "she-ro" and said the community collectively mourns her loss.
"Ruth's agency was way ahead of its in time in vision, scope, and service," said Sharpton. "Clark Unlimited Personnel serviced Wall Street, Madison Avenue, and white shoe law firms. Ruth made it her life's work not just to provide key services and resources to Black people in New York, she created opportunities of employment to as many people as she could reach. Ruth understood that education coupled with employment is one of the key tools that will uplift Black people from times of economic misfortune."
Sharpton concluded, "Ruth's enormous heart and unwavering dedication to service those right here in our city, in our community should be celebrated and emulated today."
Clark lost her parents young and was raised in a group home separate from her brother, William Bentley Cheek Jr. She worked her way from humble beginnings to founding Clark Unlimited Personnel, seeing a need for temp workers in the data processing business. Clark also used her stature in the community to advocate and fundraise for local politicians and became a power player as well.
NAACP New York State Conference President Hazel Duke told the AmNews, "Ms. Clark was before her time. We talk so much today about the things that our community needs. Last night, when we asked who were the people who got their first job because of Clark, half the church stood up. Some are still in jobs that she placed them in 10 years ago and 25 years ago.
"Not only was she an entrepreneur, she was civic minded. She believed in civil rights and she gave back to the community. She leaves a legacy of what a lot of us should be doing and thinking about: how we make our community better by doing and not complaining."
When the AmNews spoke with Harlem Community Development Corporation President Curtis Archer, he said he owed his career and his life path to Clark.
"Sometimes, you have office wives," said Archer. "She was my office mother. She gave me my first job after college at Clark Unlimited Personnel in 1980. At the time, we were the largest Black-owned temp agency in the city, and probably the state, bar none. I didn't grasp it at the time how significant it was having a Black woman at the forefront of a business and entrepreneurship at the time."