Jazz Notes: Nat King Cole play, Andy Bey, Carolina Slim
9/27/2018, 4:05 p.m.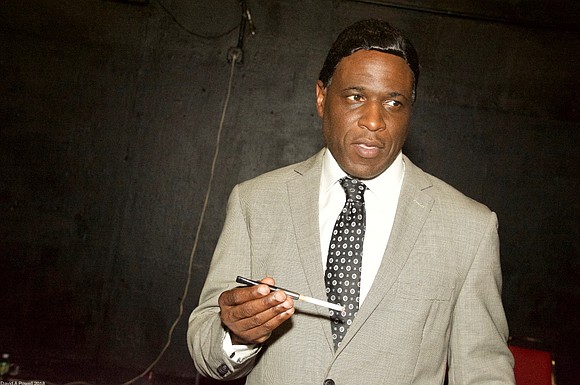 By the end of the 1940s into the 1950s, the smoky tenor-textured voice of Nat King Cole had all the young bobby-sox girls mesmerized. Even my mother loved her some "Nat King Cole."
His stature as a popular star was cemented during this period by hits such as "All for You" (1943), "The Christmas Song" (1947), "(Get Your Kicks on) Route 66," "(I Love You) For Sentimental Reasons" (1946), "There! I've Said It Again" (1947), "Nature Boy" (1948), "Frosty the Snowman," "Mona Lisa" (No. 1 song of 1950), "Orange Colored Sky" (1950) and "Too Young" (No. 1 song of 1951).
Not only was Cole an incredible singer, but also he was an awesome pianist. More importantly, he was a Black man in America trying to support his family at the height of segregation. At the end of each performance, there were life's issues waiting at the dressing room door.
The phenomenal production of "Nat…Inspired by the Life and Times of Nat King Cole," now running through Sept. 30, visits the heart and soul and inner thoughts of that handsome man onstage in the tuxedo with the million-dollar smile.
Verlon Brown, the writer and star of this unforgettable one-man show, is the persona of Cole. We are with him in the dressing room as he expresses his thoughtful annoyance with his wife Maria's constant visits to the recording studio.
His voice urges you to take part in the involved issues with the producers and executives of "The Nat 'King' Cole Show," which debuted on NBC in 1956. The variety program was one of the first hosted by an African-American. The program started at a length of 15 minutes but was increased to a half-hour in July 1957.
His emotional soliloquy is a somewhat zealous debate as it relates to his show and how despite its popularity, racism is the brick wall that blocks a larger budget and national sponsor. Even with his efforts of securing such guests as Harry Belafonte, Tony Bennett, Ella Fitzgerald, Frankie Laine, Peggy Lee and Mel Tormé, Cole decided to end the program Dec. 17, 1957. He later commented, "Madison Avenue is afraid of the dark."
When Cole is diagnosed with cancer, Brown draws the audience into Cole's emotional web as he lounges at home reminiscing about his minister father and his older brother Eddie while he constantly spits up blood and continues to smoke.
The potency of his delivery pulls the audience to the edge of their seats, realizing this thoughtful father, this great performer has to go but hoping he could stay just a little longer. He died Feb. 15, 1965.
Ironically, Brown is not a professional singer or pianist, but he has the voice to carry a smoky rendition of Cole singing songs such as "Unforgettable," "Paper Moon" and "Mona Lisa."
Rome Neal, the director of this human voyage through the catastrophic waters of racism, the rocky waves of marriage and the deep dark waters of death, demonstrates once again how with collaboration he is able to get the best out of his actor/actors. This play offers you an opportunity to know and experience Nat King Cole the man.