Look chic and casual in classy color combinations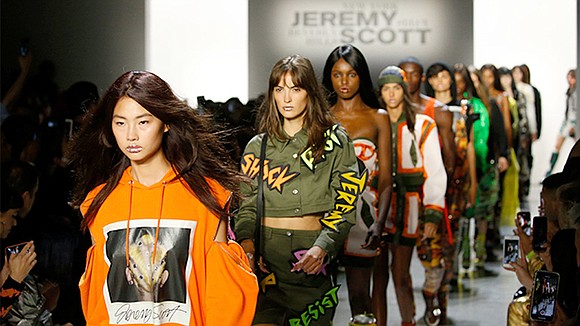 Anna Sui's collection takes you on a creative journey unparalleled in the world of fashion. Her collection incorporates her fine mixes of vintage styles with her current cultural obsessions. Sui effortlessly makes hip and exuberant original clothes. Whether inspired by Victorian cowboys, Warhol superstars or Finnish textiles prints, she researches everything about her designs and her depth of cultural knowledge is always apparent. Anna Sui is a true trendsetter. In this spring/summer '19 New York Fashion Week show, her prints were unusual and her color combinations exceptional.
Designer Jeremy Scott has become a pop icon in his own right, and he also has a knack for iconic designs. His pop star clientele includes Rihanna, Arianna Grande, Katy Perry, Miley Cyrus, Madonna, Bjork, M.I.A. and Nicki Minaj. His street fashion pieces are designed in fabulous shapes in luxurious fabrics. The look is colorful, casual and chic. For those watching his runway show, it's evident that his clothes are comfortable, and a woman's confidence with the way she is dressing is key.
For spring/summer '19, LANYU presented a striking evening collection that was filled with longer A-lined multicolor dresses and stunning caftan looks in two tones or three. Although LANYU maintains its focus as a creator of couture, the brand also designs and retails ready-to-wear, wedding dresses and fashion accessories.
For the modern woman, Jonathan Simkhai's ready-to-wear collection was luxurious. His aesthetic philosophy plays with the tension of masculine strength and feminine sensuality. In his show, you could see this reflected in the use of customized fabrics, romantic detailing, linear lines and contoured silhouettes. Through designs that seek to embolden women with confidence, ease and sensuality, the brand represents modern versatility. Simkhai continues to redefine the 21st century.
Born in New York, Simkhai launched his eponymous label after years of experience as a buyer and merchandiser. He honed his technical skills at Parsons School of Design and the Fashion Institute of Technology. Early success propelled Simkhai into the CFDA (fashion incubator program), where he developed his eye for quality of craft.
Simkhai is constantly inspired by the environment. It motivates his creative process and desire to push conventional designs boundaries. His work often explores the confluence of technology and handmade artistry.
The Jonathan Simkhai collection is available globally, including at Bergdorf Goodman, Neiman Marcus, Saks Fifth Avenue, Harvey Nichols and Net-a-Porter.