More tips for traveling in Chi-town
SHERYL NANCE-NASH | 9/27/2018, 4:16 p.m.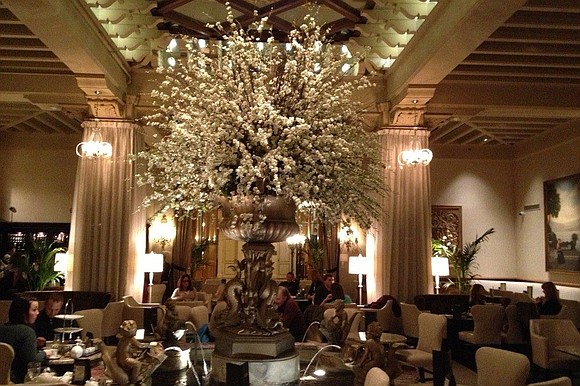 What is it about New York and Chicago? The rivalry runs deep, and I'm not talking about the Knicks and the Bulls back in the day. For decades these two cities have debated about which is better. But of course New Yorkers say there's no need for discussion.
Take a trip there to settle it for yourself.
I long wanted to get to Chi-town. I had heard it was like a little New York, but clean. Curiosity was killing me. I was born in Indiana. How I never made it to Chicago all these years is a mystery. But this spring, alas, I ventured to the Windy City when I would be assured some warmth.
New Yorker that I am, I wasn't going to roll up in there without a little bit of attitude and feeling like, "We're No. 1." But after taking the train from the airport to downtown and hitting Michigan Avenue, with all that amazing architecture—the classical, historic and the modern mix beautifully—the tough-girl game collapsed almost immediately.
I checked into the elegant LondonHouse Chicago. It's in the historic London Guarantee & Accident Building, with modern touches such as a tri-level rooftop bar, spa and all glass tower. It overlooks the Chicago River. I was in the lap of luxury, like some of New York's finest. Chicago was giving New York a run for the money for sure.
It started with the long walk on the Riverwalk and a nice lunch at City Winery, just a stone's throw from the river. By the time I made the rounds at some of the city's best jazz clubs, such as Andy's and the Green Mill, it was a wrap. I was in love.
I fell hard, and you likely will too. Here's what to do and see when you go.
Make your way to Millennium Park
Millennium Park has great views of the lake and city. Cycle, walk, skate, run, picnic or simply sit and enjoy the views and sounds. The 24.5-acre park features Frank Gehry's Pritzker Pavilion and serpentine bridge, Jaume Plensa's Crown Fountain, Anish Kapoor's 110-ton Cloud Gate ("The Bean") and the Lurie Garden, which wows with year-round flower displays and hosts monthly garden walks. There's always something going on—concerts, festivals, yoga, food trucks. Big fun!
Laugh out loud
Chicago is home to the legendary Second City Comedy Club. Check out improv comedy at its best. There's a good reason it's been around since 1959. Because it's such a hot spot, book weekend tickets in advance.
Bike the Lakeshore Path
The Lakeshore Path is an amazing way to discover the beautiful skyline of Chicago. In the summer, it can get a bit crowded, because the lakeshore is basically like an ocean front, but the ride is totally worth it. Now, with fall approaching, it's a great time to go. There's a large green space at the Fullerton entrance with an incredible view of the skyline.
Take a tour
The Chicago Architecture Foundation River Cruise by Chicago's First Lady Cruises offers a guided riverboat cruise that showcases the city's architecture. This cruise is a great way to see a lot of the city and in just 90 minutes.