Touro College, Harlem community celebrate life of Martin Luther King Jr.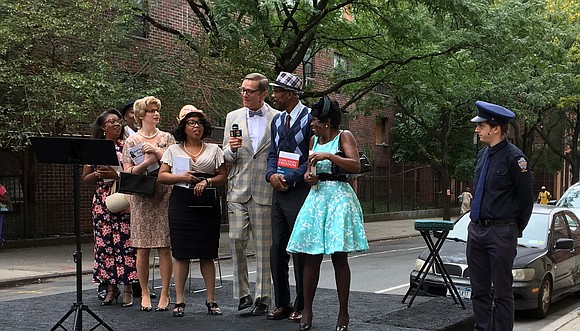 More than 200 Harlem community members joined with Touro College of Osteopathic Medicine students and faculty to commemorate the life and legacy of Dr. Martin Luther King Jr. Sept. 20, the day the civil rights hero survived an assassination attempt at Blumstein's Department Store on 125th Street in Harlem. The former department store is the current location of TouroCOM and Touro College of Pharmacy.
Entitled "When Harlem Saved Dr. King," the event was sponsored by The Greater Harlem Chamber of Commerce, Touro College, NYC Health+Hospitals/Harlem, the National Action Network, One Hundred Black Men, the NAACP and the New Heritage Theatre Group.
At Blumstein's, Dr. King was signing his first book, "Stride Toward Freedom," when he was stabbed with a letter opener. Dr. King was taken to Harlem Hospital, where doctors removed the letter opener and saved his life.
TouroCOM Harlem Dean Dr. David Forstein opened the event by noting the many civil rights triumphs Dr. King went on to accomplish in the next decade before he was assassinated, including the March on Washington, the Civil Rights Act of 1964 and the Voting Rights Act of 1965. He recounted that the building sat vacant until 11 years ago, when TouroCOM opened with a mission to increase the number of underrepresented minorities in medicine, as well as serving the Harlem community. "Nearly 30 percent of this year's entering class of medical students are from minority backgrounds," stated Forstein.
He added, "This building went from being a site of near tragedy and urban decay, to a renewed site of education and scholarship with a strong focus on bettering the lives of the community we serve. As we commemorate this important event in the life of Dr. King, I can't help but think he would be proud of what the Touro College of Osteopathic Medicine and the Touro College of Pharmacy, along with their community advisory boards, bring to Harlem."
Notable politicians, community leaders and senior Touro College and University System officials spoke about the importance of honoring Dr. King, his character and the relevance of his mission today.
Letter from Dr. King's son read aloud
Michael Hardy, executive vice president and general counsel of the National Action Network, read aloud a letter from Martin Luther King Jr.'s eldest son for the event.
"Even as he sat in Blumstein's Department Store with the letter opener still in his chest, dad expressed his distress over his attacker's mental condition, rather than his own mortal wound," Hardy read. "In saving Dr. King, Harlem Hospital saved a son, a husband, a father, a brother and a dream. That dream is what helped to transform Blumstein's Department Store into a medical school that today is educating students to become doctors, measured by the content of their character and their ability, not by the color of their skin. Touro College of Osteopathic Medicine has produced over 130 physicians of color who, by and large, chose to work in primary care and family practice to serve working class and communities of color in this country. Some of those doctors may one day be at Harlem Hospital to save other lives."