Touro College, Harlem community celebrate life of Martin Luther King Jr.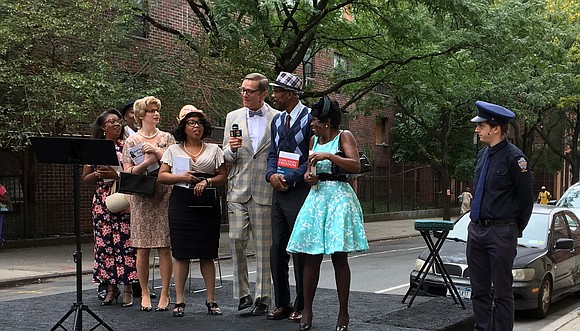 In his invocation, Touro College Executive Vice President Rabbi Moshe Krupka recalled Dr. King's dedication to peace and solidarity. "In an ever-increasing age of polarization, let us remember Dr. King's call for unity," said Rabbi Krupka. "King said, 'Whatever affects one directly, affects all indirectly. I can never be what I ought to be until you are what you ought to be. This is the interrelated structure of reality.' He taught us the importance of joining together as a community—where each member feels for the others success and welfare as if it were his or her own."
Touro College President Dr. Alan Kadish spoke further about Dr. King's impact on the world. "It's a tremendous honor and privilege to be here today helping to celebrate the legacy of the only American to have a national holiday named after him," said Kadish. "It is a tribute to what he accomplished for our country and this community. We are very proud at Touro to be part of the Harlem community and to be commemorating the life of a truly great hero. What happened 60 years ago once again emphasizes how important it is for every member of our society to have access to high-quality health care. We have to continue to support Harlem Hospital and Metropolitan Hospital so that when the next Dr. King is around, he or she can be saved."
Dr. Hazel Dukes, president of NAACP New York State Conference and a founding member of TouroCOM's advisory board, spoke of Dr. King and her own relationship with TouroCOM. "Think about what this building meant to Harlem and what it means to us now," she said. "The reality that TouroCOM imparts is that there is still hope; that there is still a place for you. That we're still calling out that there is a better way of life."
The Rev. Al Sharpton recounted the story of another Harlem luminary, Adam Clayton Powell Jr., whose fight to integrate Harlem Hospital created the integrated team that treated Dr. King successfully.
"It wasn't until the 1930s that they would allow Black doctors to work in Harlem hospitals," said Sharpton. "Adam Clayton Powell's first crusade at the Coordinating Committee for Employment and as pastor at Abyssinian Baptist Church, was a coalition that led to five Black doctors in the '30s being the first Black doctors to do their work and perform their skills in Harlem Hospital. Had it not been for that movement and Adam Clayton Powell, there would not have been an integrated group of surgeons to save Dr. King some dozen years later."
Sharpton concluded his speech by thanking Touro. "We should support the Touros that open new horizons for us because they may be the ones that spare us what Dr. King suffered that day," he said.
Also present at the occasion were Michael Garner, president of 100 Black Men, who spoke, and Geoffrey Eaton, president of the NAACP Mid-Manhattan Branch and another founding member of TouroCOM's advisory board. Others in attendance included Lloyd Williams, president of the Greater Harlem Chamber of Commerce and honorary co-chair of the event; Ebone Carrington, CEO NYC Health and Hospitals/Harlem; New York State Assemblyman Al Taylor; Democratic District Leader William Allen; Jackie Rowe-Adams, founder of Harlem Mothers Save; C. Virginia Fields, president and CEO of the National Black Leadership Commission on AIDS, Inc.; Touro College Graduate Division Provost Patricia Salkin; TouroCOM Executive Dean Dr. Kenneth Steier; Touro College of Pharmacy Dean Dr. Henry Cohen; and representatives from the mayor's and the governor's offices.